May 18, 2020
Now and always, the health and safety of our clients, staff and community is our top priority. We are closely monitoring information about the Coronavirus (COVID-19) and following guidelines from the Centers for Disease Control and Prevention (CDC).
Here is an update on what we are doing to keep projects on-track and keep everyone safe and healthy.
Virtual Design Services
We are offering virtual design services. Our designers can meet with you from the convenience of your home. Learn more about virtual design.
Showroom
Our showroom is open during our regular business hours.
Monday – Thursday: 10 am – 5 pm
Friday: 10 am – 4 pm
Saturday: 10 am – 1 pm
We have minimal staff in the showroom. To provide you with the best service possible, please consider scheduling an appointment ahead of your visit. An appointment is not required, but we want to ensure that someone is available upon your arrival. Virtual appointments are also available.
Our showroom is equipped with hand sanitizer and we are sanitizing common areas between client meetings. If you have a fever or other symptoms of COVID-19, please do not visit.
Construction Continues at Our Job Sites
We are still hard at work on job sites but taking additional health precautions. Employees who have a fever or other symptoms of COVID-19 are not allowed to work. Our crew is equipped with face masks, gloves and hand sanitizer for use in vehicles and job sites. Our goal is to keep jobs on-schedule. We are doing everything we can to start/complete projects on time. If something changes due to supplies or labor issues, we will notify customers immediately.
In-Person Appointments
For necessary in-person appointments in our showroom or client homes, our staff is equipped with face masks, gloves and hand sanitizer. Employees who have a fever or other symptoms of COVID-19 must stay home.
Projects Not Yet Started
We are committed to all future jobs. If your job is under contract or in the "project development" phase, please know that we are committed to your project. We will do everything we can to start/complete your project on time. If something changes due to a supply or labor issue, we will notify you immediately.
We are doing our very best to serve our customers, but we ask for your patience and support as we work to balance the needs of our customers, employees and their families.
We know this situation has everyone feeling uncertain. If there is anything we can do to help you, please reach out to us via email at [email protected] or via phone at (262) 303-4819.
Be safe and stay healthy.
Matt Kowalske
President
Kowalske Kitchen & Bath
---
View Our Kitchen Projects
Our kitchen remodeling experience includes all design styles and room sizes. We remodel small kitchens, where storage and counter space is imperative. We also remodel kitchens where we move walls and expand the space. Our designers work with you to design a kitchen with function, storage solutions and style.
---
View Our Bathroom Projects
We love turning outdated bathrooms into beautiful retreats! We've created stunning master bathrooms, functional hallway bathrooms, and powder bathrooms with personality. Our designers work with you to create a bathroom with quality materials and a style you'll love.
---
View Our Whole Home Projects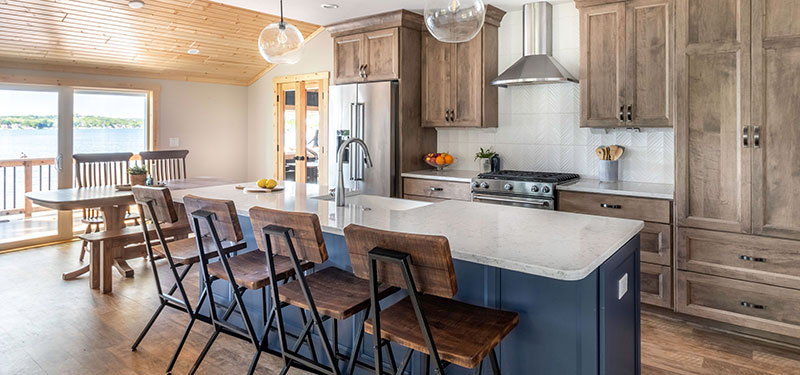 Our large scale remodeling experience includes entire houses and additions. Whether you've lived in your house for many years, or just bought a fixer-upper, we can turn it into a fresh, modern space. Let us help you design and build the house of your dreams.
---
View Our Basement Projects
We specialize in turning empty basements into valuable living space for your family. Our basement renovation experience includes: rec rooms, office space, bathrooms, bedrooms, playrooms, laundry rooms, home gyms and wine cellars.