According to a 2022 study from Niche, Brookfield, WI received an "A +" as its overall grade for places to live. This likely comes as no surprise to you, a Brookfield homeowner. You love shopping at Brookfield Square, dining at fine places like Mr. B's Steakhouse, and enjoying performances at the Sharon Lynne Wilson Center. But is it time to transform your home into the haven you've always wanted with a kitchen or bathroom remodel? Maybe you want to expand your living space or complete a home remodel? Whatever your specific needs, Kowalske Kitchen & Bath is the home remodeling contractor for you!
We are here to help you enjoy your life in Brookfield even more. As a family-owned and operated company, Kowalske Kitchen & Bath prides itself on superior design-build remodeling for the Brookfield community. Since 1983, have helped hundreds of local homeowners benefit from the luxury of premium interior remodeling by choosing us as their home renovation contractor.
We believe in providing each family in southeastern Wisconsin with the home renovation they deserve. Are you dreaming of a luxury bathroom renovation or a spacious professional kitchen remodel? Just as you find calm and contentment strolling through Fox Brook Park or playing a game of golf at Brookfield Hills Golf Course, you can experience stress-free home remodeling with us. Our seasoned designers and project managers will partner with you, coaching you through each step of the process. Let the award-winning Kowalske Kitchen & Bath team bring your exciting vision to life.
Brookfield Remodeling Services
Schedule A Consultation
It's time to get started on your Brookfield home remodel. Kowalske will make your dream home a reality.
Superior Bathroom Renovations
From the Majestic Cinema to Biloba Brewing to Whirylball, there's never a shortage of activities in Brookfield. Add to your already-wonderful life in a great city with an updated bathroom to match. Kowalske Kitchen & Bath only uses premium materials and exclusive vendors for your bathroom design. Do you need to accommodate a growing family or want a luxurious bathroom retreat or an elegant master bathroom oasis complete with a sizable freestanding tub? Rest assured you can trust our team from concept to construction.
Save time and money with us when you choose our premium design-build services for the beautiful master bathroom you want.Your designer will help you select the perfect cabinetry, plumbing, fixtures, custom lighting, and more. Don't worry about the hassle of contacting vendors and contractors. Let us do the heavy lifting while you enjoy your new luxury bathroom remodel stress-free.
"We loved working with this team – from the design process, to the build! Our two upstairs bathrooms and master suite were redone and could not be more beautiful or fit our personalities more. We will be working with Kowalske on all future upgrades! Quality work done by quality people."
Kitchen Remodeling in Brookfield, WI
Sure, you love your dinners at Bravo! Italian Restaurant and your glass of wine at Cooper's Hawk Winery & Restaurant, but are you content with your dining space at home? If not, we can assist you in transforming the gathering place of your Brookfield home with a beautiful kitchen remodel.
There's a reason why we have been the number one kitchen contractor for Brookfield homeowners for nearly 40 years. Our professional team will give you the kitchen of your dreams. We specialize in creating efficient smart kitchen remodeling designs. Whether you need to update a tired dysfunctional kitchen with today's hottest trends or a complete facelift, we can help you create the perfect design for your kitchen remodel.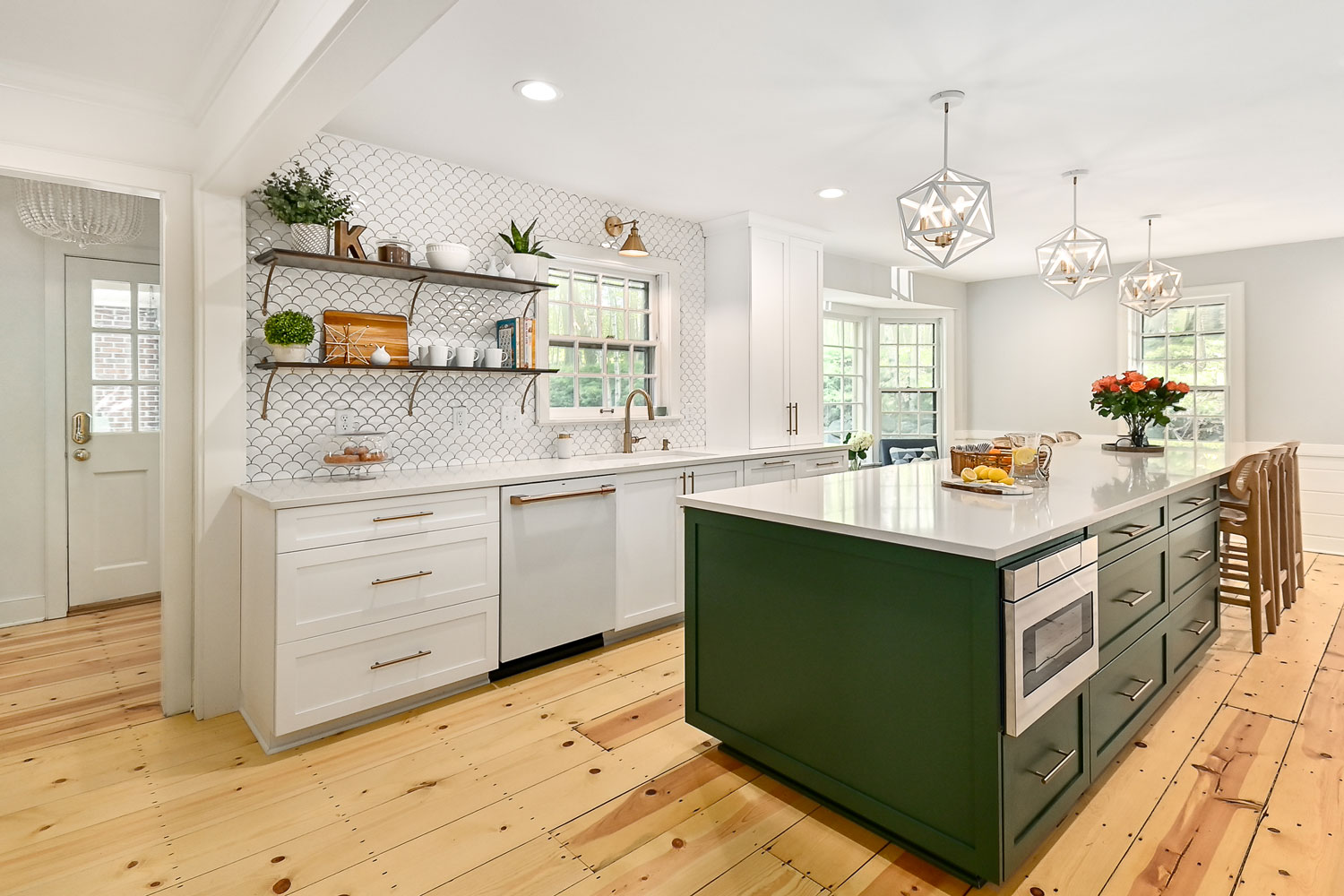 Because we only work with top vendors, Kowalske Kitchen & Bath guarantees first-class home remodels for your Brookfield kitchen. We promise to build you the kitchen you need. Bring your dream kitchen to life!
"We bought a condo that had "good bones" but the kitchen/bathroom layout/design was stuck in the 80's. We knew we needed help & met with Kowalske to see what they could offer. We were blown away by the preliminary designs that [our designer] came up with & decided to contract with Kowalske. We weren't disappointed one bit. We couldn't be happier & would not hesitate recommending Kowalske Kitchen & Bath to anyone. Great people & great work."
Stress-Free Basement Finishing
Ready to transform your basement into an exciting living space? Look no further for the best basement finishing contractor in Brookfield.
Do you want to create a kid-friendly recreation space, an impressive home theater, or a high-end private bar? Experience hassle-free basement finishing and remodeling for your Brookfield home.
"Had them finish our basement, and very pleased with the work they did. They came up with a great design. When issues came up in the project we were able to work together and resolve. Very easy and fair to work with and stayed on time for the total project. If/when we have another project I plan to use them again."
Premium Whole Home Remodeling & Additions
Work with the Kowalske Kitchen & Bath team to redesign your home. Our team has decades of experience with whole home remodels and kitchen additions. Let us help you transform your home into a space that accommodates your unique needs and lifestyle.
Perhaps you are looking to put an addition on your Brookfield home? Do you have an outdated fixer-upper in need of a whole home remodel? Maybe you need increased accessibility to age-in-place and smart home technology to remain in your home. Is it time to build an office in your home? We will work with you to update your space and meet your family's needs. Call us today for your whole home remodel.
"Our experience with Kowalske Kitchen & Bath was phenomenal from start to finish. Our designer was the reason we chose the company and the rest of the crew was equally impressive. Every person we had contact with was professional, courteous and highly skilled. The final product is exactly what we planned down to the tiniest detail. Look at our photos! The proof is in the pudding, as they say! I highly recommend Kowalske Kitchen & Bath for your home remodel."
About Us
We are your local, go-to remodeling expert with a showroom in downtown Delafield, WI.
Since 1983, we've been remodeling bathrooms, kitchens, basements and whole houses in Wisconsin. We are a full-service design-build company, which means we work with our clients from design through construction. We coach you through the entire remodeling process to achieve the look of your dreams.
Kowalske Kitchen & Bath has a reputation for doing incredible home remodels for Brookfield homeowners. In a city that offers dining, shopping, golfing and so much more, you deserve a home you love. We are proud of the work we do and our high level of customer satisfaction. Contact us today to design the living space you have always wanted!
Our Service Area