Bathroom Remodeling & Design
Waukesha County | Milwaukee County | Delafield | Brookfield | Hartland | Wauwatosa | Elm Grove
Our Design-Build Bathroom Remodeling Services
If you are looking for a way to improve the look and feel of your bathroom, you have come to the right place. Kowalske Kitchen & Bath specializes in bathroom remodeling – master suites, hallway bathrooms and powder baths. 
Whether you are looking for functional storage solutions or luxury features, let us help you design and remodel your bathroom.
A bathroom remodel comes with a wide array of great benefits including increasing functionality of the space, creating a relaxing getaway in your home, and increasing your home's value.
Create the BATHROOM you've always wanted.
Reasons to Remodel Your Bathroom
Improve Bathroom Functionality
Are you struggling to find storage, counter space and good lighting in your bathroom? Are your finishes deteriorating? If so, it's time to consider a bathroom remodel. A Kowalske designer will work with you to find ways to increase functionality. We help you choose beautiful counters, sinks, functional cabinetry, great lighting and durable floors.
Create a Relaxing Getaway
Your bathroom should be a place where you relax and unwind. Retreating to your personal getaway can refresh and revitalize you. If you're looking for a spa-like bathroom in your home, the options are endless. When remodeling your bathroom, consider adding heated floors, a luxurious walk-in-shower, a whirlpool tub and digital showering system.
Increase Your Bathroom's Safety
Bathroom safety is always a top design priority – whether you have small children, aging parents, or you're entering retirement years. Fixing issues before accidents happen is a good reason to invest in a bathroom renovation. Let a Kowalske designer help you create a safe and accessible bathroom. This can include non-slip flooring, a curbless shower, grab bars, etc.
Explore our recent bathroom remodeling projects.
Bathroom Remodeling Process
Kowalske guides you through the entire bathroom remodeling process – from the design phase through construction. We work with you to understand your bathroom renovation goals, establish a budget and answer all of your questions. Whether you need a new style or better functionality, we can help you envision, design and build the perfect bathroom space.
Whether you want a modern farmhouse look, traditional style, or something in between, the experts at Kowalske can help. We are confident that you will love the way your bathroom will look. If you are unsure of how to start planning your bathroom remodeling project, our team can point you in the right direction.
Each year, we complete dozens of bathroom remodels for homeowners in Delafield, Brookfield, Hartland, Wauwatosa, Elm Grove and the surrounding communities. 
As a family-owned residential remodeling contractor, we treat our customers like family too. We're known for superior service, awesome reviews and meticulous craftsmanship. Come visit our showroom in downtown Delafield, Wisconsin!
Are you wondering what it costs to remodel your bathroom? Our pricing guide provides details on what you can expect to spend on a bathroom remodel in the Milwaukee and Waukesha area. 
The cost of a bathroom remodel will depend on the size of your project, the materials you choose, and the complexity of the project. As a design-build remodel company, we provide the design, materials and construction for your project, all under one roof.
What Our Customers Are Saying
"I can't express enough of my gratitude for the work that Kowalske did, and the way they made this the best customer experience as possible. They were attentive to our needs from start to finish. Everyone we interacted with was polite and professional. We did a full bathroom remodel and I am so in love with the result. They gave us great guidance and recommendations along the way. Kowalske is the team to hire!"
– Michelle (Wauwatosa)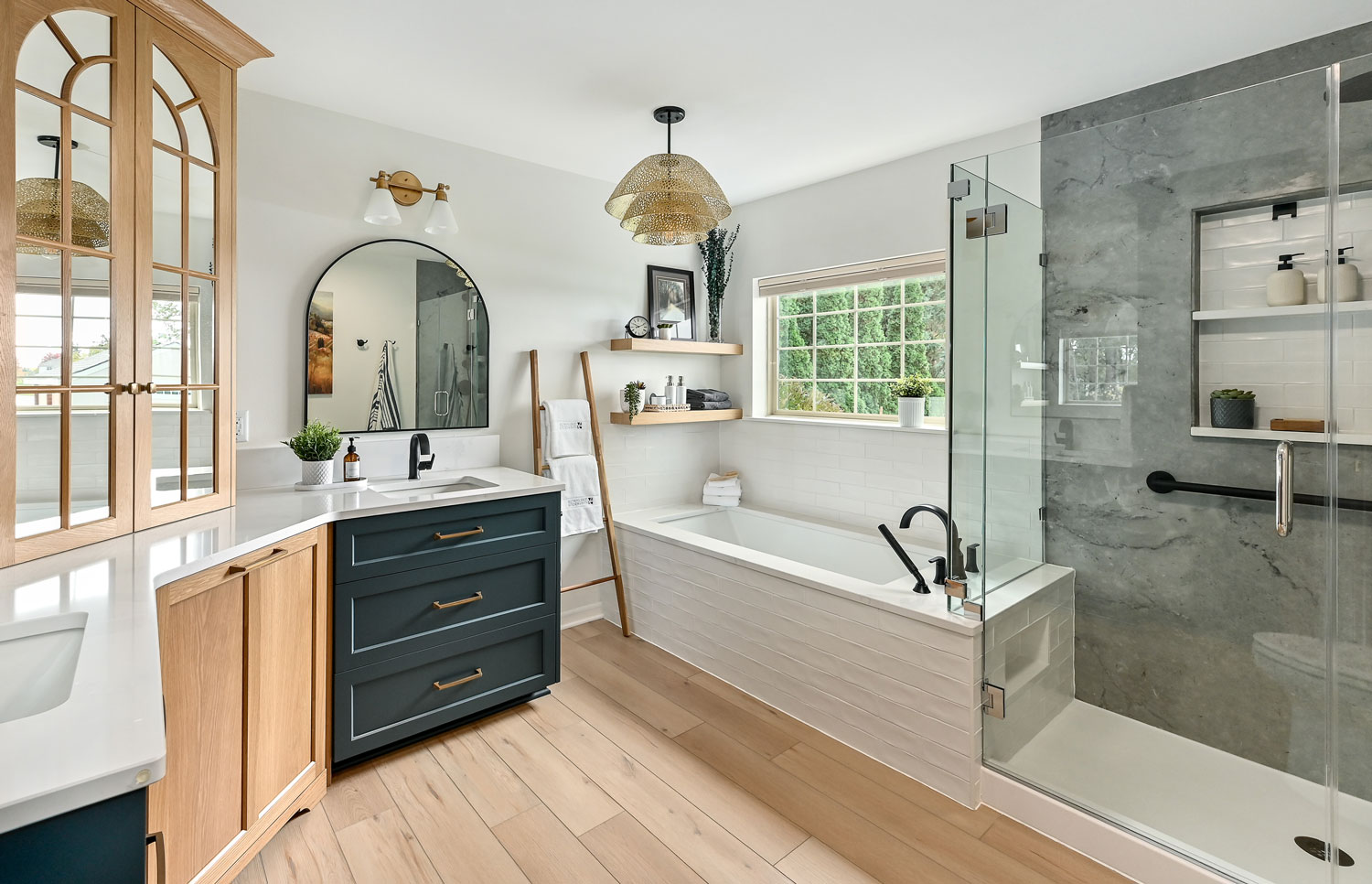 "We can't say enough about the design choices and the workmanship. The Designer and Project Manager (and his team) were respectful, responsive and professional. The master bathroom is better than we could have imagined. We highly recommend them."
– Al & Mary (Dousman)
"Exceptional at every level. Kowalske Kitchen and Bath went over and above at every step of our remodeling project. They were able to accommodate all of our extra requests and change orders in a timely manner. We are extremely satisfied with the final result."
– Mike (Oconomowoc)
Request a Remodeling Consultation