Are you planning to live in your home well into retirement? Or do you have an aging family member moving into your home? When remodeling your bathroom, consider accessibility in your design choices.
Many older homeowners face physical limitations that make bathing and toileting more challenging. Bathrooms need to be safe spaces. Sharp corners, tight spaces and slick surfaces can be dangerous. Bathroom falls injure scores of seniors every year.
When remodeling your Lake Country, WI bathroom, consider these aging-in-place features:
1. The ADA Bathroom Layout
To make a bathroom accessible, work with a designer who understands universal design. Kowalske Kitchen & Bath has worked on many bathrooms designed for aging-in-place. These principles come from the Americans with Disabilities Act (ADA) guidelines. While these requirements only apply to public restrooms, the "universal design" principles are useful in residential remodeling.
The layout of your bathroom is especially important. Choose an open floor plan with wide doorways and room to maneuver around the space. A 5-foot turning radius allows a wheelchair full access to the space. Installing wide doorways or sliding barn doors is one way to make the space easy to enter.
2. Curbless Shower
Although a curb helps contain water, stepping over it can be tricky for even the most agile senior. A wheelchair-accessible shower features a curbless entry that minimizes trip-and-fall risks. A reputable contractor will make sure that the floor is sloped to allow for water drainage. If you prefer a shower with a curb, a narrow edge makes it easier to get in and out.
3. Shower Bench
Standing in the shower for any length of time puts excess strain on your body. Decrease your odds of a slip-and-fall mishap by installing a shower bench. Sitting in the shower reduces the amount of standing and the risk of slipping on a wet floor.
4. Handheld Showerhead
Want to add convenience and comfort in your shower? Install a handheld showerhead next to your shower bench. They come in an array of styles, features, and the ability to adjust the height. Other options include massage features, water efficiency and temperature control. One of our favorite handheld showerheads is the Delta Palm Shower. It slips over the hand for easy showering control.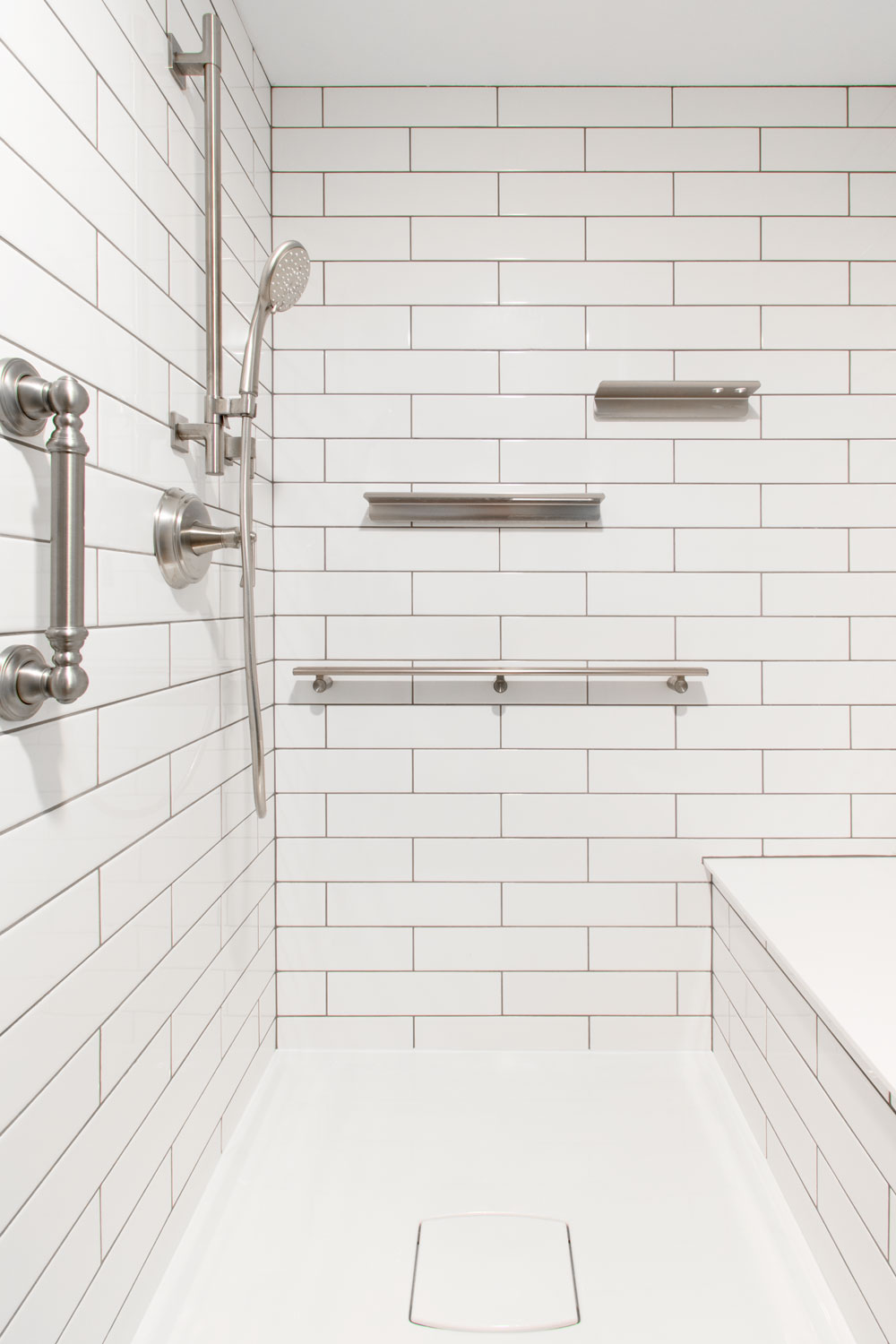 5. Grab Bars for an ADA Bathroom
Entering and exiting the shower, or getting on and off a toilet seat, can be challenging. If you have balance and coordination issues, install grab bars around the shower, toilet and vanity. Grab bars in your ADA bathroom will give you something to hold onto. Better yet, ask your contractor to install decorative towel bars that double as grab bars!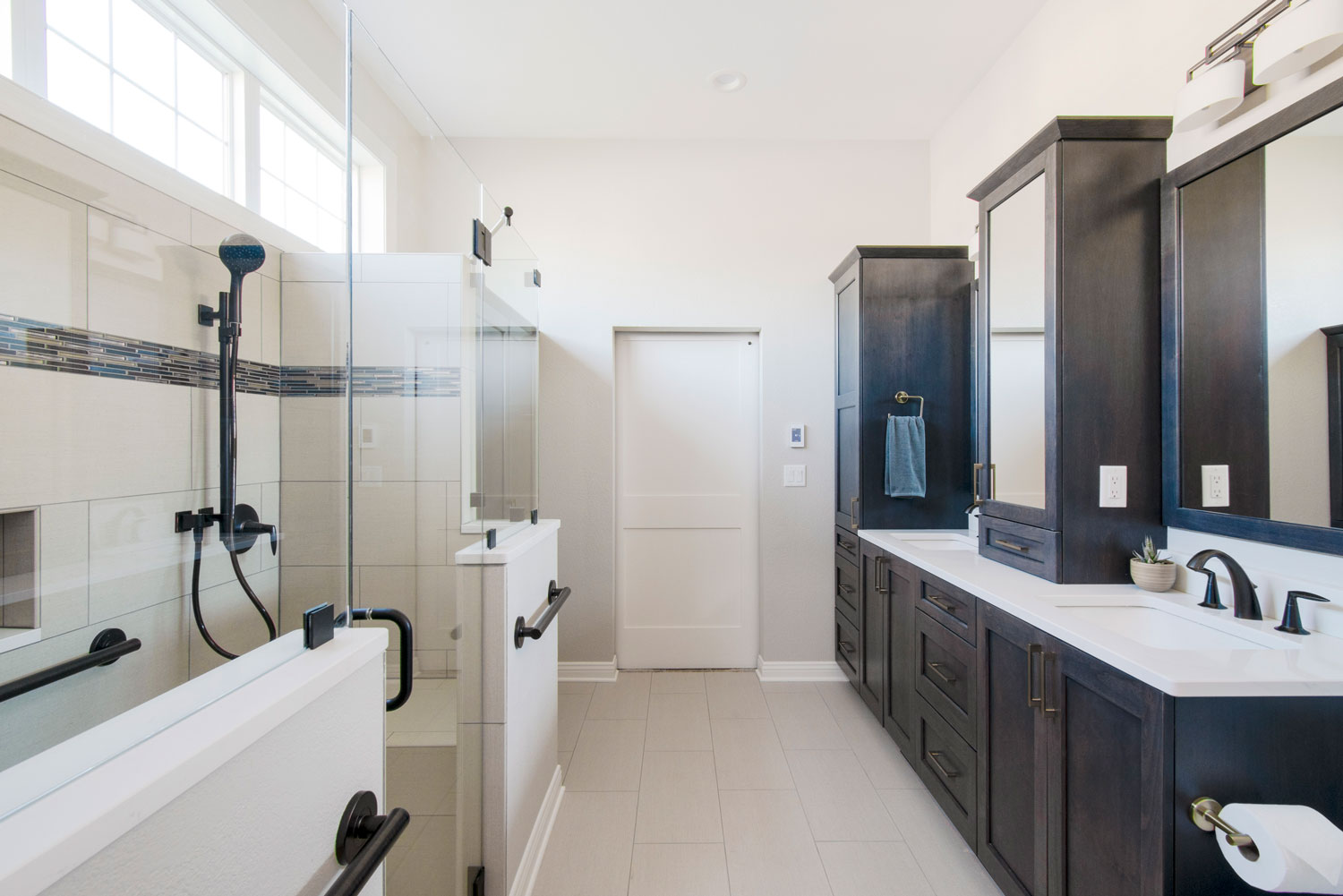 5. Wheelchair Accessible Vanity Design
Minus the vanity top, the standard height for a bathroom vanity is 31.5 inches. Raising your vanity top by a few inches will keep you from having to hunch over while using the sink and faucet. Wheelchair-accessible bathroom vanities should be less than 34 inches high. It should also have plenty of open space underneath. When choosing a vanity height, consider a comfortable height, even if your needs change.
6. Comfort Height Toilet or Bidet Toilet
Most standard toilets are less than 17 inches tall. This makes them uncomfortable or even dangerous for older users. A comfort-height toilet or bidet is 17 to 19 inches high, making it much easier to use. If placing less strain on your knees and back is important, consider adding a comfort-height toilet to your bathroom remodel.
7. Non-Slip Flooring
Smooth floor tiles and moisture are a dangerous combination in the shower. Prevent falls by placing slip-resistant textured tile flooring in your shower. Smaller textured tiles with more grout lines provide better slip-resistance than large tiles. Also, stunning porcelain tile with a textured appearance creates a relaxing, spa-like atmosphere. Porcelain is one of the easiest materials to clean and lasts a lifetime.
Start Your Aging-in-Place Bathroom Remodel
An aging-in-place bathroom remodel provides the perfect blend of functionality and aesthetics. Making smart choices in your bathroom design will keep you safe and comfortable in your own home. Our experienced designers will help you create a space where you can live for many years.
We are a reputable contractor in the Lake Country, WI area with years of experience in ADA bathroom design. Contact a Kowalske Kitchen & Bath designer to get started on your bathroom project!
Aging-In-Place Bathroom Projects
Learn More
About Kowalske