What makes a bathroom beautiful? Tile plays a significant role in the look and feel of a bathroom, adding pattern, texture, color and visual interest. Whether you love subway tile, glass mosaic, hexagons, or penny tile, the options are virtually endless. But with so many choices, how can you choose the best bathroom tile for your bathroom remodel?
Pair up with our seasoned designers at Kowalske Kitchen & Bath serving Wisconsin homeowners in the Milwaukee and Waukesha area. Your designer will help you select bathroom tile that best suits your style and needs. Discover the beauty of luxury tile!
1. Wood-Look Tile
Do you want the attractive look of wood without the cost and maintenance? These bathroom tiles offer a faux wood option that is both durable and beautiful. Whether you have a modern home or a traditional look, you can find the right wood-look tile that fits your specific aesthetic. Each tile has its own unique knots, grain, patterns and beautiful colors. Opt for a realistic look or choose a tile with gray or blue undertones.
Wood-look tiles come in a variety of styles and shapes. For example, choose from intricate mosaics, hexagon or chevron. Find oversized tiles in dark colors or even in classic ceramic. This affordable choice is perfect for busy families. Low maintenance and easy-to-clean, tile is a popular choice for many homeowners.
2. Hexagon Tile & Octagon Tile
Discover a wide range of exciting tile shapes like hexagons and octagons that can be used in your bathroom. Trendy geometric tiles are both versatile and elegant. Elevate your overall bathroom design. Porcelain hexagon tile and octagon tiles have the durability to last for years. They come in many finishes, sizes and colors. No matter your bathroom style, geometric tiling gives you a sleek, classic look.
With hexagons, the shape is simple and modern. They can repeat in a tile pattern quite easily. The lines bring visual precision. The geometric shape offers a clean, finished look. Octagon adds texture and the result is one of the more interesting looks for bathroom tile.
Geometric tiling can be tricky to install. No worries. Our experienced Kowalske tilers will quickly and professionally install any type of geometric tiling. Talk with our designers about the best bathroom tile trends for your home.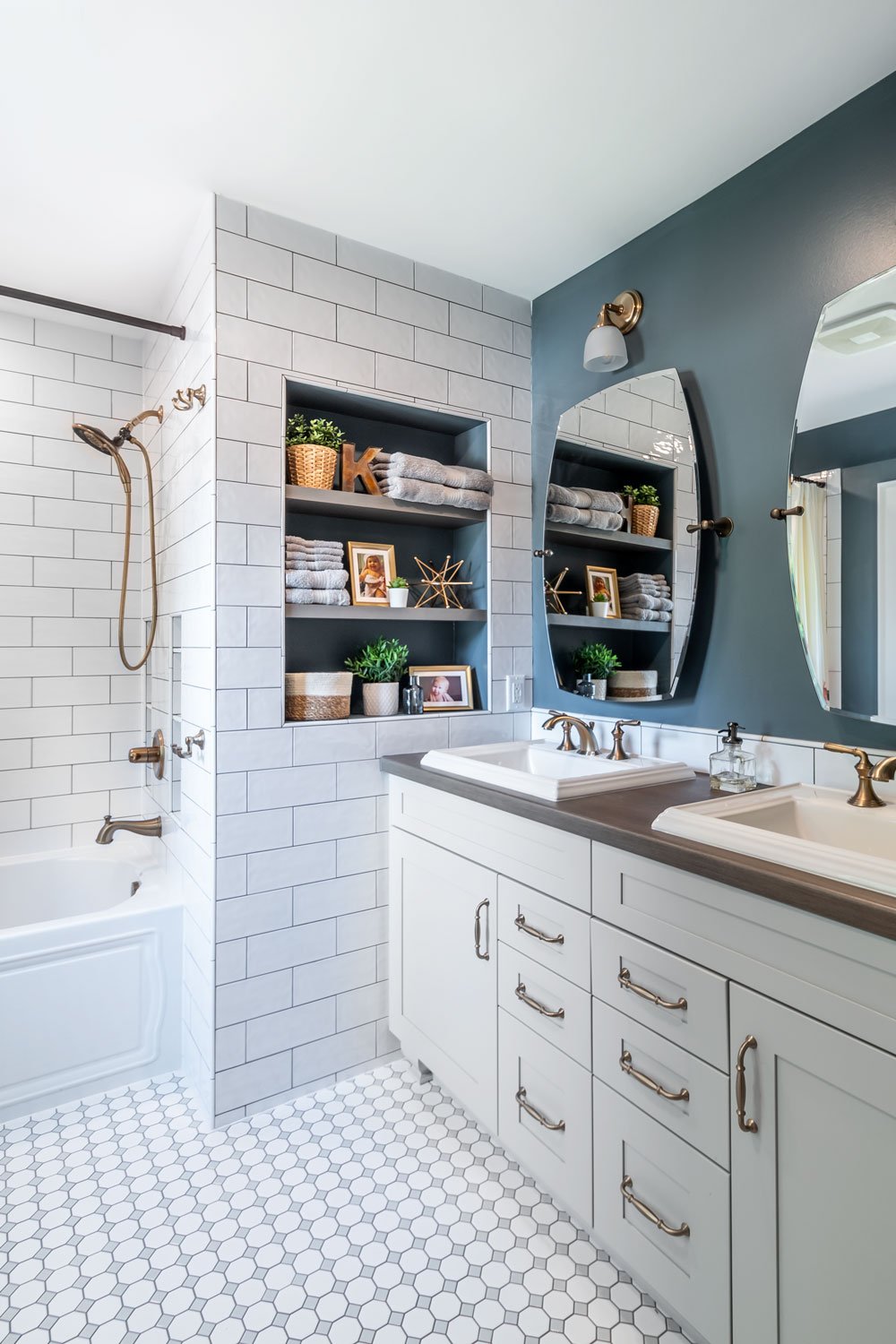 3. Subway Tile in the Bathroom
Do you want to enjoy a sleek classic bathroom look? Many homeowners enjoy the traditional look of classic subway tiles. First used in New York subway stations, these tiles can bring the same look to your shower area. Some benefits are they are very easy to clean and bacteria- and stain-resistant. Traditionally, these ceramic tiles only came in plain white. Nowadays, you can choose subway tile made from materials like stone, colored marble or brightly colored glass for your bathroom renovation. The only limit is your imagination.
4. Cement Tile
One of the most popular bathroom trends for your floor is cement tile. Cement tiles have a rich centuries-old history and have recently enjoyed a resurgence in luxury bathroom renovation. Each cement tile consists of meticulous hand-poured pigmented cement. These handmade tiles are created one at a time in a process that requires several steps. While making them is an involved process, maintaining the cement tiles is not difficult. They should be cleaned regularly with water and a neutral cleaner.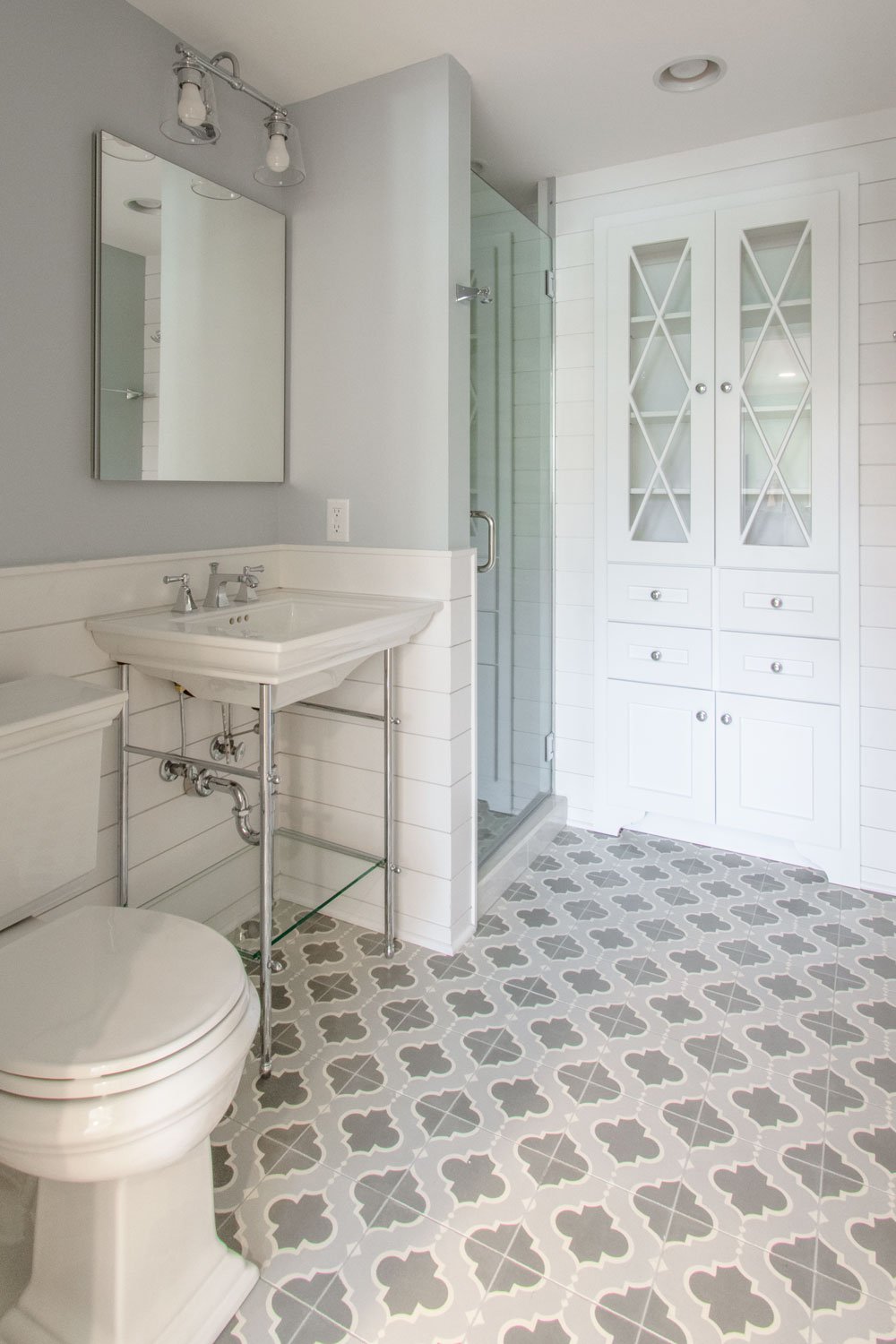 These versatile tiles come in a wide range of exciting, bold colors and patterns. Cement tiles have environmental benefits and do not become slippery. Keep your bathroom flooring clean.
5. Mosaic Accent Bathroom Tile
Want to make a real splash? Add trendy bold accent tiles to your bathroom renovation. If you are looking for luxury design ideas, then mosaic accent tile can showcase your unique style and taste. Consider adding a distinct pattern along your shower wall or inside a shower niche.
Our talented design team will help you find the perfect bathroom tile trends for you. Whether ceramic, porcelain, glass, metal, marble, pebbles, or stone, the wide variety of materials options for mosaic accent tile gives you opportunities to be creative. The multitude of materials that can be used showcases the versatility of this option.
6. Penny Tile
Consider using penny tile in your bathroom remodel. Penny tile is available in any color, so it fits any design aesthetic from contemporary to traditional. Light color shades create a calm vibe and a colorful penny tile can add personality to your space. Use penny tile on the bathroom walls, bathroom floors or as an accent tile in a shower niche. Penny tile is a great choice for shower flooring. It's a small tile with many grout joints that make the surface non-slip.
Get Started on Your Bathroom Remodel
Choosing the right tile for your bathroom renovation involves several considerations. What are your favorite colors and textures? Will this bathroom have much traffic? What is your budget? Will you need a walk-in shower for aging in place or want radiant floor heating?
With so many exciting options, you need an expert designer from Kowalske Kitchen & Bath. We serve homeowners in Wauwatosa and the surrounding area. We will be happy to answer all of your important questions.
Contact us today for your first consultation.
Learn More