Are you considering a bathroom remodel for your Milwaukee or Waukesha area home? If so, there are a variety of factors to take into consideration. As a Wisconsin design-build remodel expert, we have years of experience updating bathrooms and know what it costs to get the project done. With this in mind, we've compiled a guide to help Milwaukee and Waukesha County homeowners understand the costs associated with renovating your bathroom.
How Much Does it Really Cost?
After watching HGTV shows like House Hunters, Fixer Upper or Property Brothers, many homeowners think about remodeling their bathroom! However, a bathroom remodel on TV is quite different from one in real life. In a 30- or 60-minute show, the process looks effortless and inexpensive. In reality, they fail to discuss and show the true expenses of a bathroom remodel. We will help you understand the real cost to remodel your bathroom.
What Affects the Cost?
Remodeling a bathroom is not an every day project. Most of us only do it once in our lives so we don't have a point of comparison. Our friends and family may give us insight, but every bathroom project is different. There are various factors that affect the cost of a remodeling project:
Size of Your Bathroom: The size of your space is the biggest factor that will affect cost. A 5′ x 8′ hallway bathroom is less expensive than a master bath with a walk-in shower plus a whirlpool bathtub.
Scope of the Project: Moving walls and/or fixtures will drive up the cost of your bathroom remodel. Take a look at your space and get an idea of what you want. Our designers will help you best utilize your space.
Age of Your Home: Updates to the electric and plumbing can add to the cost of your project. Are there electrical issues that need to be updated? Will a toilet be moved to a new location? Do old pipes need replacing?
Materials Used & Level of Finishes: At Kowalske, we offer customers different price points for materials which are all high-quality materials.

Light Fixtures: Most homeowners want their bathroom to be well-lit, particularly around the shower and sink areas. Give some thought to how many fixtures you need and what kind you want. Do you want recessed lights, sconces or a lighted mirror?
Countertops & Cabinets: The cost for countertops depends on the material and number of sinks. Similarly, cabinet cost is about how many you need and the type of materials you choose to use. At Kowalske, we only use high-end materials in our projects.
Tile: The amount of tile you need to cover the space of the bathroom and the type you want will affect the final cost. The tile material, intricacy of the design, and type of installation also play a role in the price.

Amenities: Today's bathroom has endless options for those looking for a luxury bathroom. Use your imagination and come up with the room of your dreams. From heated floors to towel warmers to a whirlpool tub, there are many ways you can create your ideal space.
Where Will the Money be Spent?
Here is where the money is typically spent on a bathroom remodel:
Labor Costs: Labor costs involve a variety of factors. These include everything from the demolition crew to tools used for the work. All of our team members are experts who provide top-level workmanship.
Materials: It's important to consider the materials that will be needed to cover all the various components needed to complete the job. These include the cabinets, fixtures, vanity, tiling, and other add-ons.
Mechanicals: The mechanicals in your home will need to be updated to accommodate your new bathroom. Consider whether you need new plumbing, HVAC and electrical. Be sure that your contractor understands your local building codes and requests the permits needed for the project.
Keep in mind that as you go through the design process, the scope of your project may change, and there may be additional costs that pop up. Your designer will help point things out along the way to avoid unpleasant surprises.
Estimating Your Bathroom Project
When we estimate the cost of your bathroom remodel, we provide you with a 3-column budget with options that we classify as either good, better or best. This 3-column budget allows you the flexibility to determine an investment amount you are comfortable with. It also shows you how the money is being allocated to each portion of the project.
Investment Levels
GOOD: Laminate counters, stock or limited semi-custom cabinetry, basic tile, oval undermount sink, luxury vinyl flooring, no change in room layout, etc.
BETTER: Entry level natural stone counters, semi-custom cabinetry, upgraded tile style/color, rectangular undermount sink, porcelain tile flooring, layout changes, moving walls, etc.
BEST: Custom cabinetry, quartz counters, specialty stone or ultra-compact counters, natural stone tile, vessel sink, natural stone flooring/counters, hardwood flooring, high-end finishes, luxury items, layout changes, moving walls, etc.
You have the ability to choose where you money is spent. For instance, you can choose to splurge on custom cabinets (Best) and spend less on luxury vinyl floors (Good).
---
Milwaukee & Waukesha Bathroom Costs
The size of your bathroom (square footage) and the number of plumbing fixtures affect the cost of a bathroom remodel. Materials and labor costs continue to increase as the demand for construction and remodeling continues. Milwaukee and Waukesha County homeowners can use the following chart to estimate their bathroom project.
Our remodeling project cost minimums*:
| PROJECT TYPE | ESTIMATED COST* |
| --- | --- |
| Shower Only | $15,000+ |
| Full Bathroom – Typical 5′ x 8′ | $35,000+ |
| Small Master Bathroom – Bathtub & Shower | $45,000+ |
| Large Master Bathroom – Bathtub & Shower | $65,000+ |
*Please Note: The costs listed above are the lowest possible costs for a project with Kowalske. Most of our projects are greater than these minimum costs. Our typical client chooses to upgrade materials and scope beyond basic materials/scope.
We are a design-build company, so our projects include the design, materials, a dedicated project manager, permits and labor. Project estimates do not include the costs for appliances, furniture or décor. Each project is unique and the cost depends on size, age of home, level of finish and complexity.
See below for detailed project examples.
---
Sample Bathroom Projects
The cost to remodel your bathroom is most affected by the size of your space. We have listed the costs of a shower a hallway bathroom, a small master bathroom, and a large master bathroom. A master bathroom is most costly, as these rooms are larger and often have a bathtub and shower.
Shower Remodel Cost
Wauwatosa Shower
---
Full Bathroom Remodel Cost
A full bath typically includes a bathtub and a vanity with one sink.
Wauwatosa Hallway Bathroom
Features: 60 square feet, gray cabinetry, quartz counters, open shelving, subway tile accent wall, subway tile shower, acrylic bathtub, brushed brass Kohler fixtures, luxury vinyl plank flooring, recessed lighting & sconces.
Cost Range: $35,000 – $40,000
Learn More about this Wauwatosa Pink Bath Makeover
---
Master Bathroom Remodel Cost
A master bath is typically larger than a hallway bath and usually includes BOTH a shower and freestanding tub.
Small Master Bathroom Remodel Cost
Cedarburg Master Bathroom
Features: 79 square feet, walk-in shower, glass shower door, subway tiled shower, mosaic accent tile, freestanding bathtub, single vanity, quartz counters & Kohler fixtures.
Cost Range: $45,000 – $55,000
Learn more about this Bright & Airy Cedarburg Master Bath
Large Master Bathroom Remodel Cost
Brookfield Master Bathroom
Features: 131 square feet, large walk-in shower, freestanding Maax bathtub, glass shower door, porcelain tiled walls & shower, mosaic accent tile, dual vanity, Cambria quartz counters, luxury vinyl plank flooring & Kohler Fixtures.
Cost Range: $65,000 – $75,000
Learn more about this Beautiful Brookfield Master Bath
---
Our Design-Build Remodeling Process
As a design-build-remodel company, we provide the design and construction services, all under one roof. Working with us from start to finish simplifies the bathroom remodeling process for you. While other companies may only provide a portion of the work, we have experienced designers with degrees in interior design/architecture and support staff to ensure that your bathroom project runs smoothly.
Our Services
Design Coordination
Educating you about the remodeling process
Measuring your space
Creating a functional design that meets your needs & style of the home
Creating floor plan drawings
Creating 3D renderings
Providing a project estimate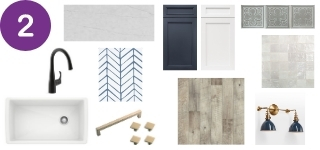 Project Development
Assisting you with final selection of materials: cabinetry, counters, flooring, plumbing fixtures, lighting, hardware, etc.
Home walk-through with the project team
Ordering materials: cabinetry, counters, flooring, lighting, fixtures, hardware, lumber, drywall, paint, trim, etc.
Construction
Providing a dedicated Project Manager to oversee the project
Providing you with an online calendar
Obtaining permits
Executing work: demo, framing, drywall, installation, electrical, plumbing, HVAC, tile, painting, carpentry, etc.
---
Is Design-Build Right For You?
Our ideal customer chooses design-build because they want guidance and expertise to oversee the entire bathroom remodeling process. This approach involves a variety of benefits:
Team Effort
Working with one team from design to construction means that we work closely with all team members. We try to foresee any issues during the design and planning stage to avoid any additional expenses and keep the project on track. We visit your home with our design team, electrician, plumber, and whatever other professionals are needed, to review the plans and discuss the project.
Space Design – Flow, Function & Style
With Kowalske, you will have an experienced designer to work on your project from start to finish. Your designer will help you plan your bathroom for the best design for flow, function, storage and style to match your home. We show you drawings and 3D renderings of your space to envision the final look and feel.
Material Selections
At your showroom appointment, we present numerous material options for your bathroom to save you the hassle of running from store to store. We coach you through the selection process for your project, including countertops, vanity, tiling, fixtures, hardware and lighting. We source and buy from a wide variety of high-quality vendors. Our goal is to provide you with durable products and exclusive lines.
Ordering Materials
We have a dedicated production team that orders the materials you choose and ensures that items are available before your project begins. By having all materials available before a job start, we can stick to the schedule and finish on time.
Construction
A Project Manager will oversee your project and be available for questions. We coordinate the day-to-day work, including the demo, plumbing, electrical, tiling and carpentry. Licensed contractors will complete all work. You'll have access to an online schedule to see what is happening each week and the peace of mind knowing all the details and quality of work will be overseen by experts.
---
Start Your Bathroom Project
Taking on a bathroom remodel is a commitment, but there are ways to make it easier. Start by taking an assessment of your specific needs and goals. The next step is to connect with the right experts to make your venture a success. Kowalske Kitchen & Bath is the company to choose to ensure you get the job done in the way you want. We can make your Milwaukee or Waukesha bathroom remodel a very manageable and enjoyable experience.
Learn More
About Kowalske
We complete dozens of bathroom projects each year in Waukesha and Milwaukee Counties, including Delafield, Brookfield, Hartland, Wauwatosa and Elm Grove. Homeowners choose us for our excellent customer service, quality materials and meticulous craftsmanship.
Frequently Asked Questions