At Kowalske Kitchen & Bath, we make the remodeling process simple and straightforward. We are a design build remodel company that will guide you through the entire experience – from the design phase through construction. Whether you need a style change or improved functionality, we can help you envision, design and build the perfect space.
STEP 1 – DESIGN COORDINATION
After learning about your project, we create a floor plan, 3D renderings and an estimate for your project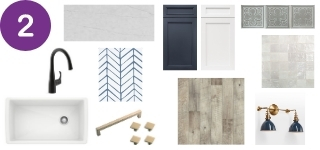 STEP 2 – PROJECT DEVELOPMENT
We help you select materials for your project and take care of ordering everything before the project begins.
STEP 3 – CONSTRUCTION
Your dedicated Project Manager oversees the project and provides you with an online calendar.
---
STEP 1 – DESIGN COORDINATION
Understand Your Project
The first step is to learn about your project. A Kowalske designer will schedule a time for a meeting – a phone call, in-home meeting or showroom meeting. We can also schedule a virtual appointment to start the design process from the comfort of your home.
Prior to this meeting, your designer may ask you to send pictures of the space and dimensions of the room. It's also helpful to see some inspiration photos from Houzz or Pinterest.
During the first meeting, your designer will ask questions to learn about your design style, lifestyle and project goals. Our goal is to understand the scope of your project and any functionality issues in the space. We want to create a design that complements both the space and the people it serves, while keeping within your budget.
Your designer can answer any questions you have about our remodeling process, our family-owned company or typical costs for remodeling.
At the end of the meeting, we will determine if it makes sense to move forward with the design/estimate process.
Design & Estimate Presentation
Next, we schedule a meeting to share our proposed floor plans, 3D renderings and an estimate.
Floor Plans
3D Renderings
We'll show you our "see it before you build it" 3D computer renderings of your proposed project. The 3D computer renderings will help you envision your new space!
Estimate
We will provide a Three-Column Budget Analysis for your project.
When we estimate the cost of your project, we provide you with a 3-column budget with options that we classify as: good, better and best. This 3 column budget will allow you the flexibility to determine an investment amount you are comfortable with and show you how the money is being allocated to each portion of the project.
Good: Laminate counters, stock or limited semi-custom cabinetry, basic backsplash tile, drop-in sink, luxury vinyl flooring, no change in room layout, etc.
Better: Solid surface, granite counters, quartz counters (select colors), semi-custom cabinetry, upgraded backsplash tile style/color, undermount sink, porcelain tile flooring, layout changes, moving walls, etc.
Best: Custom cabinetry, quartz counters, specialty stone or ultra-compact counters, natural stone backsplash tile, farmhouse or workstation sink, natural stone flooring/counters, hardwood flooring, high-end finishes, luxury items, layout changes, moving walls, etc.
You have the ability to choose where you money is spent. For instance, you can choose to splurge on the 'best' counters and spend less on 'good' light fixtures.
Learn more about our typical costs for remodeling projects.
This next phase, which we call "Project Development", is where we start to finalize your project. So at this point, we ask for a 'Project Development Agreement' payment (calculated at 5% of your estimated budget) that goes toward the cost of your project.
---
STEP 2 – PROJECT DEVELOPMENT,
MATERIAL SELECTION & COORDINATION
Material Selection
The selection process can be overwhelming, so your designer will guide you through the entire process and help you choose cabinet style, counters, flooring, tile, lighting and finishes. We'll help you pick materials based on functionality, style and cost. We want you to love every detail of your project.
We source and buy from a wide variety of high quality vendors. Our goal is to provide you with durable products and exclusive lines. We have relationships with all vendors related to remodeling – cabinetry, counters, sinks, plumbing fixtures, flooring, tile, light fixtures, hardware, windows, millwork and more.
Home Walk Through
We schedule a walk-through of your project with the Kowalske team to make sure no detail is overlooked in the planning of your project. You'll meet our Project Manager and discuss project logistics.
Contract & Order Material
At this point, we give you a final contract price, order materials and schedule your project start date.
---
STEP 3: CONSTRUCTION
A Kowalske Project Manager will oversee your entire project, executing your design. We prep your home for construction and manage the entire process. To keep you informed, we provide you with access to an online project schedule. You'll know what's happening each week.
Online Project Schedule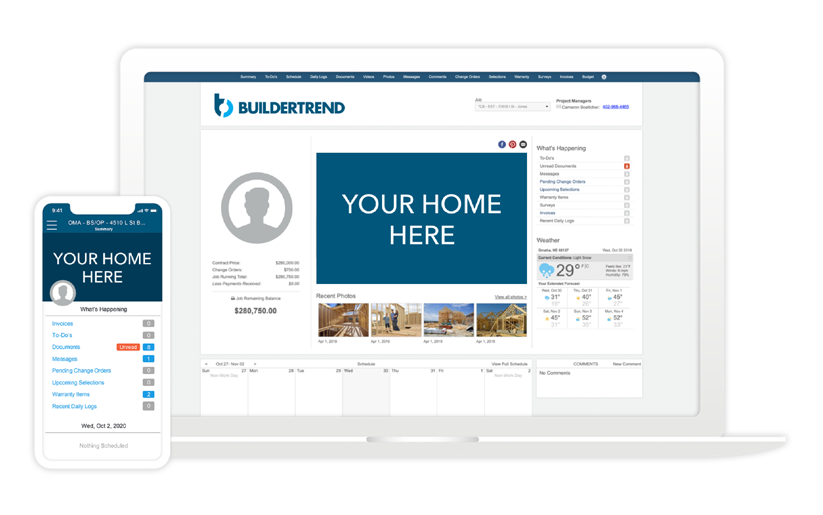 We're different from other remodelers because we have Buildertrend in our tool belt. We use Buildertrend to deliver the digital experience you expect. You'll enjoy:
Real-time visibility into the status of your project through an online dashboard, app notifications and email updates
One place to communicate and track job progress
The ability to sign agreements and make payments online
Others in the industry rely on paper and pen. They bounce from system to system. Inefficiency is their norm. From start to finish, our entire project process comes together in one powerful platform.
---
Get Started
Kowalske Kitchen & Bath manages the entire remodeling process from design through project completion. We make sure every detail in your new space is perfect. To get started on your project, schedule a consultation with a Kowalske designer.
Learn More