At Kowalske Kitchen & Bath, we make the remodeling process simple and straightforward. We are a design build remodel company that will guide you through the entire experience – from the design phase through construction. Whether you need a style change or improved functionality, we can help you envision, design and build the perfect space.
STEP 1 – DESIGN COORDINATION
After learning about your project, we create a floor plan, 3D renderings and an estimate for your project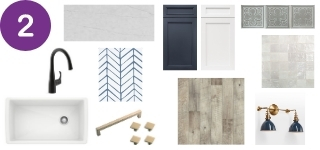 STEP 2 – PROJECT DEVELOPMENT
We help you select materials for your project and take care of ordering everything before the project begins.
STEP 3 – CONSTRUCTION
Your dedicated Project Manager oversees the project and provides you with an online calendar.
---
STEP 1 – DESIGN COORDINATION
Discovery Call: Understand Your Project
The first step is to learn about your project. An award-winning Kowalske designer will schedule a "Discovery Call" – a 15-20 minute phone call. During the "Discovery Call", your designer will ask questions to learn about your design style, lifestyle and project goals. Our goal is to understand the scope of your project and any functionality issues in the space. We want to create a design that complements both the space and the people it serves, while keeping within your budget.
Some of the questions we might ask:
Why are you looking to remodel?
What are your remodeling goals?
How long do you plan to stay in your home?
Have you remodeled before?
When do you need the project completed?
We can answer any questions you have about our remodeling process, our family-owned company or typical costs for remodeling.
Next Steps:
In-Home Measurement Appointment
Design/Estimate Presentation in our Showroom

Floor Plans
3D Renderings

Detailed Estimate
Step 2, which we call "Project Development", is when we start to finalize your project. To move your project forward, we ask for a 'Project Development Agreement' payment (calculated at 5% of your estimated budget) that goes toward the cost of your project.
---
STEP 2 – PROJECT DEVELOPMENT, MATERIAL SELECTION & COORDINATION
Material Selection
The selection process can be overwhelming, so your designer will guide you through the entire process and help you choose cabinet style, counters, flooring, tile, lighting and finishes. We'll help you pick materials based on functionality, style and cost. We want you to love every detail of your project.
We source and buy from a wide variety of high-quality vendors. Our goal is to provide you with durable products and exclusive lines. We have relationships with all vendors related to remodeling – cabinetry, counters, sinks, plumbing fixtures, flooring, tile, light fixtures, hardware, windows, millwork and more.
Home Walk Through Meeting
We schedule a walk-through of your project with the Kowalske team to make sure no detail is overlooked in the planning of your project. You'll meet our Project Manager and discuss project logistics.
Sign a Contract & Order Materials
At this point, we give you a final contract price, order materials and schedule your project start date.
---
STEP 3: CONSTRUCTION
Construction Drawings
Once you sign a contract, we turn your floor plans and 3-D renderings into detailed Construction Drawings. These construction drawings help our team ensure accuracy, and communicate the remodeling plan to everyone involved in the project. The documents include detailed instructions about demo, framing, electrical, plumbing, hardware, cabinetry and much more! Collaboration with our team is a huge part of a successful project and these documents are where the magic happens.
Project Management
A dedicated Project Manager and Customer Experience Manager will oversee the construction of your project. We execute the design, communicate project details, and actively provide solutions to any job site challenges. We prepare your home for construction and manage the entire process.
Most homeowners have never remodeled and don't known how to prepare or what to expect during construction. Read our blog post to help you prepare: What to Expect During a Home Remodel
Online Project Schedule
To keep you informed, we provide you with access to an online project schedule. You'll know what's happening each week.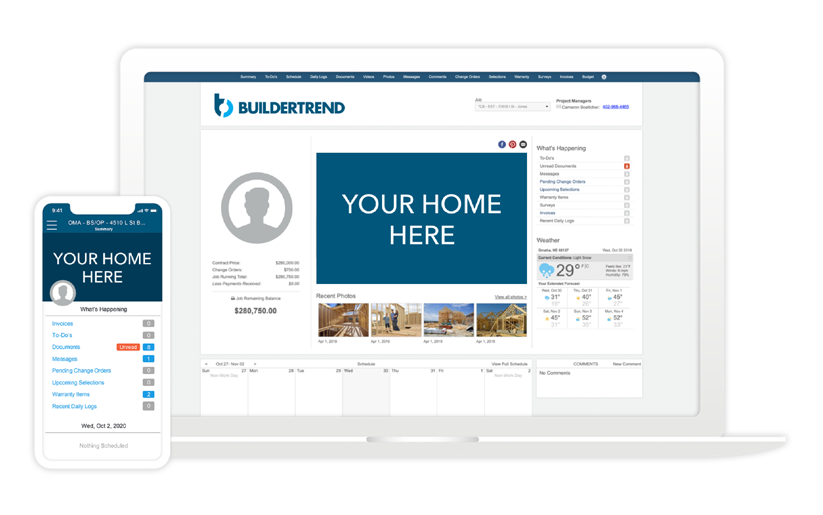 We're different from other remodelers because we have Buildertrend in our tool belt. We use Buildertrend to deliver the digital experience you expect. You'll enjoy:
Real-time visibility into the status of your project through an online dashboard, app notifications and email updates
One place to communicate and track job progress
The ability to sign agreements online
Others in the industry rely on paper and pen. They bounce from system to system. Inefficiency is their norm. From start to finish, our entire project process comes together in one powerful platform.
---
Get Started
Kowalske Kitchen & Bath manages the entire remodeling process from design through project completion. We make sure every detail in your new space is perfect. To get started on your project, schedule a consultation with a Kowalske designer.
Learn More