A growing community along the Fox River, the city of Waukesha offers many benefits to the families who live here. With a thriving downtown area, and year-round events, the city is certainly a joy to call home. However, can you say the same for your actual home or is it time for a renovation? As a full-service Waukesha remodeling contractor for kitchen remodels, luxury bathroom renovations, and whole home remodeling, Kowalske is just a call away. Our team of expert designers believes in providing Wisconsin families with the highest level of service and craftsmanship in every project. Since 1983, our award-winning team has helped hundreds of Waukesha homeowners with kitchen and bathroom remodeling.
As much as you enjoy strolling the Riverwalk after getting a treat from Divino Gelato Cafe, you should love spending time in your Waukesha home. With a remodeling venture comes a lengthy "To do" list, but that's where we come in. You can experience a worry-free renovation with our trusted team that will create a design and find the perfect products. No need to juggle a variety of contractors and vendors, as we have it all covered. Let the Kowalske team do the heavy lifting while you sit back and wait for the results. From concept to construction, our seasoned designers, carpenters, and project managers will remain by your side.
Kitchen & Bathroom Remodeling Contractor Services
Schedule A Consultation
Take the first step and schedule a consultation today. Our team will work with you to make your Waukesha home remodeling dream come true!
Stunning Waukesha Bathroom Remodels
When it comes to bathroom remodeling in Waukesha, Kowalske guarantees a superior experience. We work with world-class vendors to bring you products from exclusive product lines. Whatever the size or intricacy of your Waukesha bathroom remodel, you can trust us to find only the best for your needs.
Does your bathroom need a makeover? Maybe you need more functionality or want to update the design style. Whatever your wish, our talented team will work with you to ensure that you get the bathroom remodel you deserve. We will bring your bathroom to the next level with luxury tile, quartz countertops, lighting and high-end fixtures.
"We wanted to modify our master bath to provide easier access (zero barrier shower, universal design) and improve use of space in the master bedroom. Kowalske had finished our basement a number of years ago and did a great job, so we approached them on this project. They were easy to work with and did everything they promised – right through the final walk through. All of the workers were friendly and knew what they were doing. The finished project provides much needed improvement to the space and the ability to 'age in place' we would not otherwise have had."
Premium Kitchen Remodeling in Waukesha
Homeowners have been partnering with Kowalske Kitchen & Bath for their Waukesha kitchen remodeling needs for decades. Why? The answer is simple. As a full-service kitchen remodeler, we provide excellent customer service from the design phase through final construction. Providing you with a stress-free kitchen remodel is our top priority.
What are you looking for in your Waukesha kitchen remodel? More space for a growing family? A breakfast nook? Office space to work from home? Or maybe you just want to spruce up a tired-looking, outdated room with current products and energy-efficient appliances. We are excited to help you transform your Waukesha kitchen into a gathering place just as much as Sobelman's or Sakura Japan!
"It was such a joy to work with… everyone at Kowalske. Every single person we worked with was exceptionally kind and considerate. From the first time we met, we felt they gave us options for our budget, understood our goals and our ideas and created a design that we both love to look at and a room we now love being in. The quality of the work far exceeded our expectations and the time frame in which it was all completed was exactly as promised (which was really important to us on this project). We highly recommend them for your remodeling. We loved working with them so much we are now hiring them to remodel our bathroom!"
Basement Remodeling in Waukesha
From breweries like Raised Grain to coffee shops such as Mountain Top Coffee, you have plenty of hangout spots in Waukesha and your basement should be one of them! If you are looking to better utilize your Waukesha basement, contact us today. As basement remodeling contractors, we can help you convert an unfinished space into a fun family recreation area. Your options are virtually endless. We can build you a functional laundry room, bar or kitchenette area, home gym, or office space. Basement remodeling in Waukesha, WI is one of our specialties.
Maybe extra storage space tops your list as it does for many Waukesha homeowners. If that's the case, speak to your designer about adding shelving and storage solutions for books, games, holiday decorations, seasonal items, and more.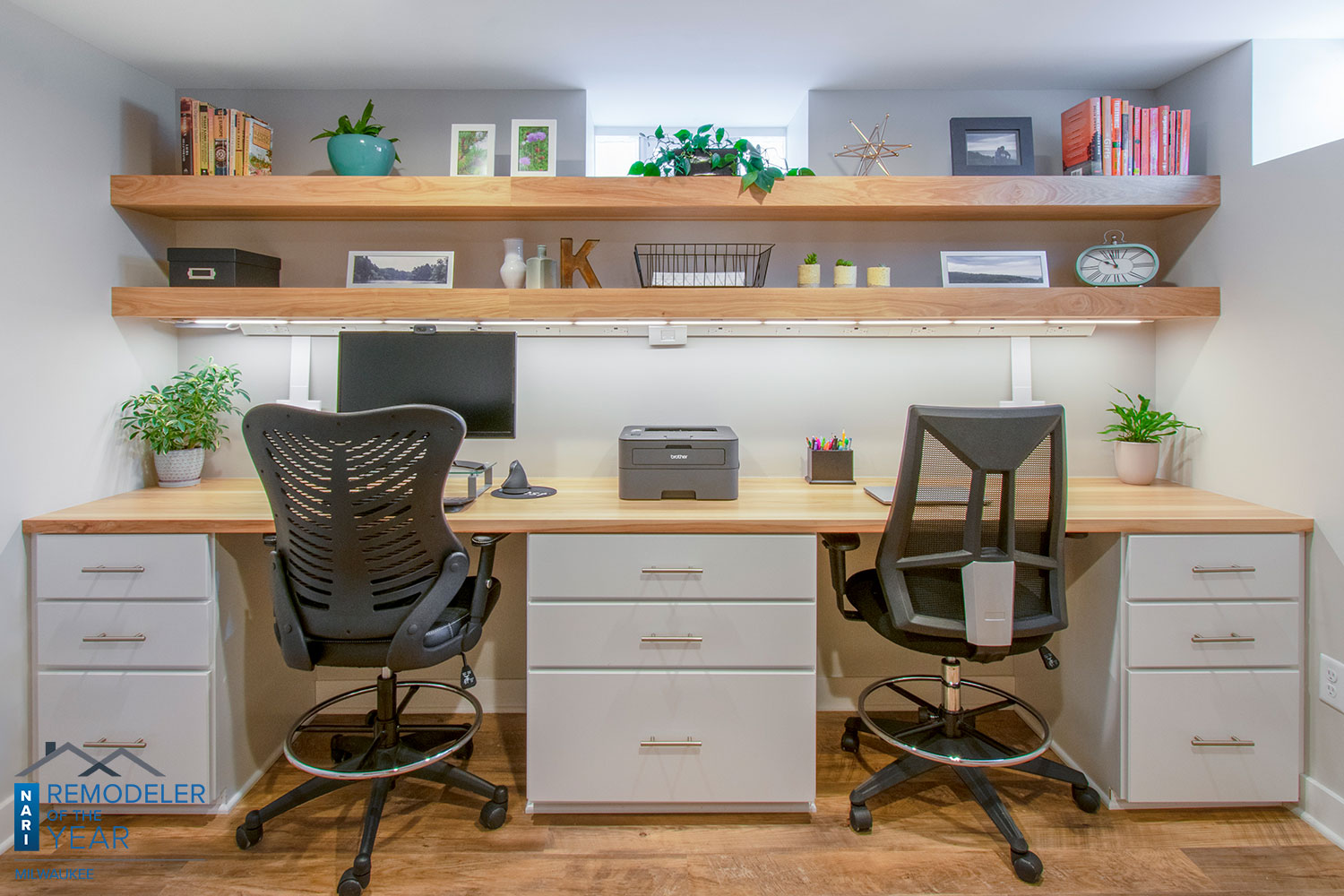 "We had been talking about remodeling our basement for a long time, but decided to make it happen when my husband was offered a job working remotely. It felt like the right time for us to have a real home office where we could separate our work lives from our home lives. We wanted the area to feel open, light-filled, and modern – not an easy task for a previously dark and cold basement! It was so fun to see how our designer was able to take our wish list and ideas from my Pinterest board, and turn it into a practical design. We were sold after seeing the design, and were pleasantly surprised to see that Kowalske was less costly than another estimate."
Waukesha's Best Whole Home Remodeling & Additions
In Waukesha there is no shortage of activities from theater productions to Friday Night Live to the farmers market. But maybe now is the time to dress up your Waukesha residence for entertaining right at home. Did you just purchase a new home in Waukesha? Perhaps you need a whole house remodel to create a more open layout for family and friends to gather. Or you maybe you just want a home addition for a new kitchen or master suite.
Whatever tops your list, our experienced designers will help you create a space that will fit your family's changing needs. We have been offering home remodeling in Waukesha, WI for four decades. The best home addition contractor team in Wisconsin will make your long-time wish a reality.
"We had an incredible experience with Kowalske Kitchen & Bath. It's hard to describe the scope of the project because they really did touch every room in the house. Their design choices were thoughtful, the work they did was professional, and working with them was great. We love our house… every day we come home it feels like we're on vacation or living in a dream house. If you are thinking about doing any sort of home renovation project you really need to talk to Kowalske. You just don't find companies like this out there – they are incredible."
About Us
We are your local, go-to kitchen and bathroom remodeling contractor with a showroom in downtown Delafield, WI.
Since 1983, we've been remodeling Waukesha bathrooms, kitchens, basements and whole houses. We are a full-service design-build company, which means we work with our clients from design through construction. We coach you through the entire remodeling process to achieve the look of your dreams.
Kowalske Kitchen & Bath has a reputation for doing incredible home remodels for Waukesha homeowners. We are proud of the work we do and our high level of customer satisfaction.
Our Service Area