Are you looking to add extra living or recreation space to your home? If you need a home gym, office space, game room or extra bathroom, basement finishing may be the best solution. When you are ready, the experts at Kowalske can be your Pewaukee basement remodeling contractor.
1. Basement Style: There Are No Rules
As you start to think of possibilities for your unused lower level, first decide what you are looking for in your Pewaukee basement remodel. What is your vision? Do you want a family area to play games? A space for entertaining family and friends or hosting sports gatherings? Maybe you want a man cave or kids play area. The best part is that your basement doesn't have to match the style of the rest of your home. For example, your main level may be transitional, but you can have a farmhouse basement. Your imagination is your limit!
2. Basement Bar or Kitchenette
A finished basement is the perfect place for any kind of gathering. Having a bar or kitchenette for food and beverages will take entertainment to the next level. Whether you want a bar where you can serve up adult beverages during get-togethers or a second kitchen that makes life easier during holiday parties, our experts can make it happen.
3. Basement Stair Design & Under the Stairs
An unexpected perk of a basement staircase is the space underneath the stairs. During a basement remodel, you can transform the bonus space into a custom wine cellar, storage shelves, a pantry for food and other supplies, a closet space or even a playhouse for the kids. What kind of design do you want? It can be ornate and decorative, functional or a combination of both. We can help you create a space that meets your needs, whether you want a fun kids area or want to use the space for storage.
4. Extra Bathroom – Basement Finishing
Who couldn't use an extra bathroom? If you are considering basement finishing, be sure to add a bathroom to the list. Whether you are having a party with friends or family members are on extended stay, a basement bathroom is a great investment. Your Pewaukee basement is the ideal space to make that extra room for house members and guests to get ready. A basement bathroom is perfect for showering after exercising or cleaning up after working in the yard to avoid getting dirt and sweat through the house. You should also think about what you want to include in your bathroom. A vanity with storage? Walk-in shower? Maybe even a pet-washing station! Your options are many.
5. Basement Bedroom
The basement is an opportunity to build that extra room you've always wanted, but just isn't practical upstairs. This gives you a quick, easy, and ready-to-go room for that surprise houseguest, a mother-in-law, or the teenager who craves independence and privacy. There are many additions and adjustments that can be made such as adding an egress window for safety or closet space for convenience.
6. Laundry Room in the Basement
The basement can be the ideal space for a laundry room because it's secluded and quiet. This setup keeps the noise of running machines out of earshot and piles of dirty laundry away from the main living area. With a lower level laundry and dryer set, access to plumbing and electrical will generally be easier. Give some thought to the type of storage you will need in a laundry area, such as countertop space, drying racks, a ceiling mounted pole or cabinets.
7. Add a Home Gym in the Basement
Wouldn't you love the convenience of being able to work out in your own Pewaukee basement? In an area that can include amenities like a sound system or wall TV, the basement is a clear choice to create the gym that will help you meet your fitness goals. It both saves the drive to the gym and avoids the ever-increasing membership fees. If you already belong to a gym, this can be your back-up location on bad-weather days. All you need is a few key pieces of equipment and accessories and you can have a sweat sesh without ever getting in your car. Talk to your Kowalske designer about the type of flooring, lighting and cooling you will need in this area to make it your very own.
8. Basement Home Office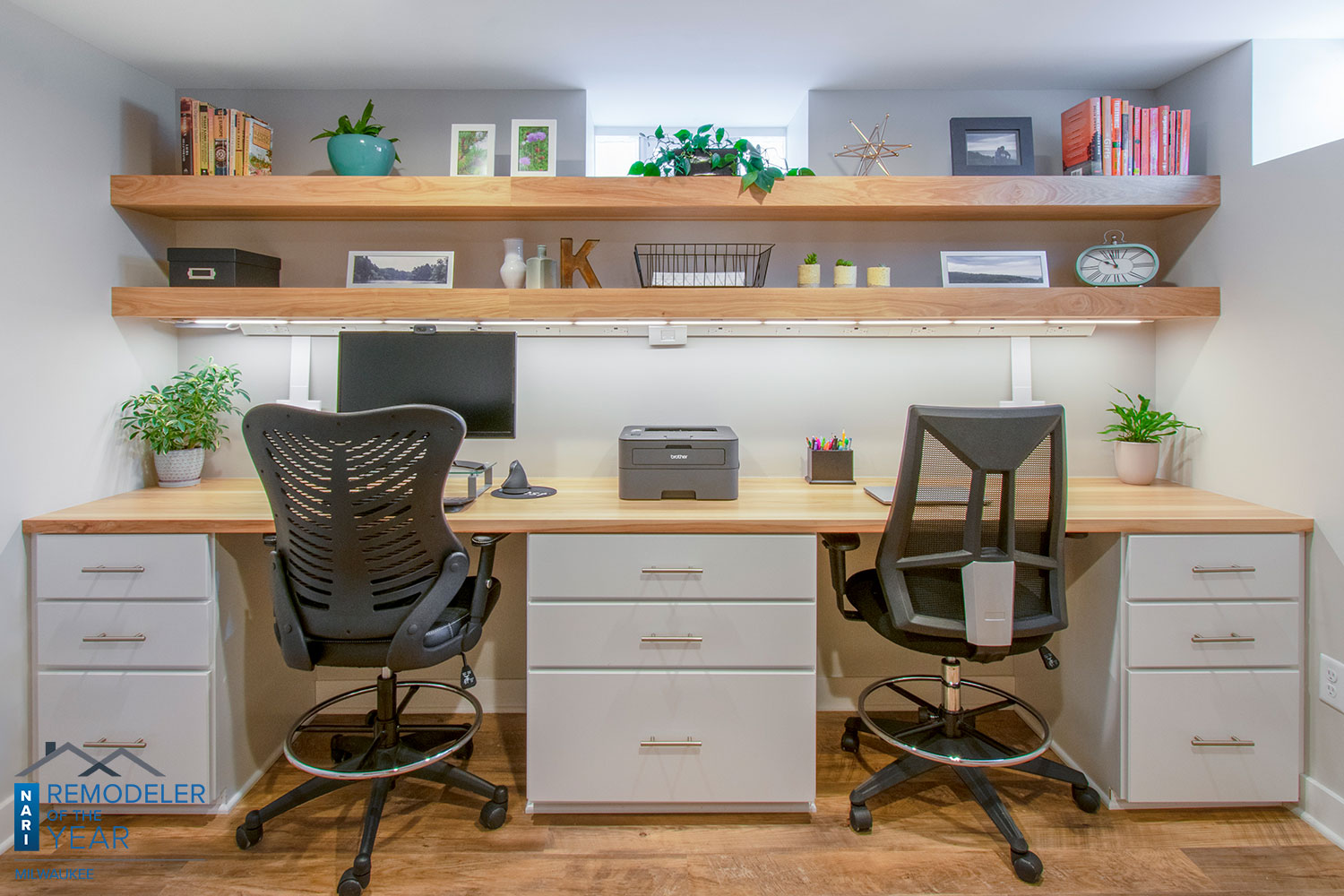 Add a home office during your basement remodel. It will be the place where you could work in peace and quiet for long, uninterrupted periods of time. If you have your own work space, you can avoid the commute during crummy weather and tune out the distractions of coworkers. You can transform this area into something completely your own, with unique cabinet storage, a built-in bookcase, your perfect desk, and much more. A basement home office can become a place you want to spend time in even when you aren't working, but rather catching up on personal projects.
9. Basement TV & Movie Area
How fun would it be to have a gathering area in your basement for big sporting events like play-off basketball games, the World Series, or the Superbowl? Another idea is a basement home theater where you enjoy all the delights of a big screen movie in the comfort of your own Pewaukee home. For major events and unseasonable weather, you can still experience the joys of the outside world without ever stepping a foot out your door. You can add amenities like a snack bar or top-of-the-line sound system.
10. Basement Recreation Area
If you're ready for some fun and leisure in your home, now is the time and your basement is the place! Whether or not you have a bar in the basement, you can bring the recreation of the corner hangout to your own house. The options are endless for your basement remodel – ping pong table, billiards table, foosball, air hockey, or a dartboard. You can enjoy video poker and trivia games, and maybe even kick up the fun with a jukebox!
11. Playroom in the Basement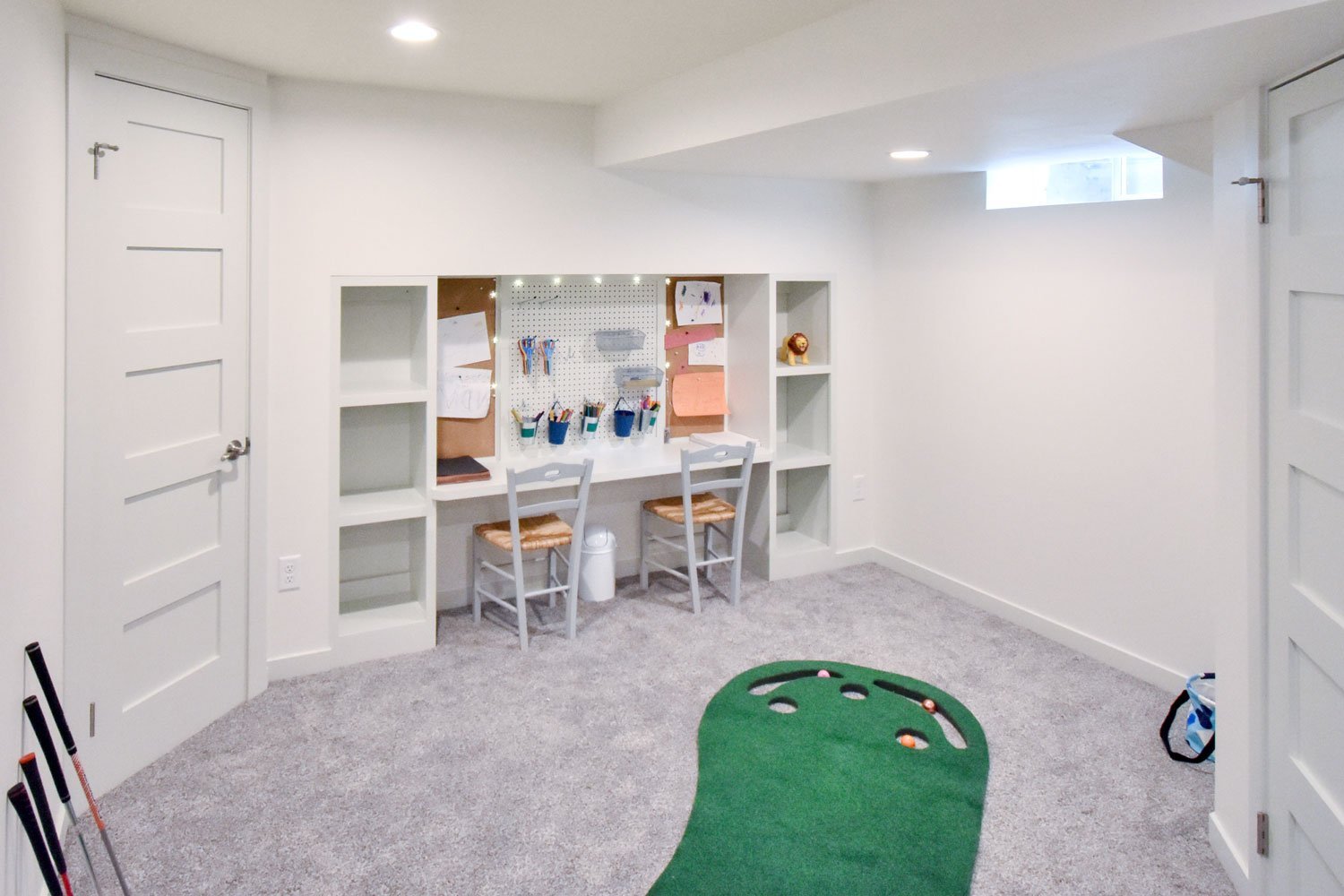 Have you considered adding a basement playroom where your kids and their friends can safely explore their imaginations? Not only would such an area help reduce clutter by keeping many of the toys contained in one area, but it means room for the bigger ticket items like a dollhouse or kitchen set. You can decorate as you wish with favorite posters and school projects. Let us know if you need a closet or built-in shelves for storing toys, games and books.
12. Basement Hobby Area
You can turn your basement into a showcase of your favorite things! Whether a classy wine collection, sports memorabilia, authentic car or train collections, your items can be given their own space to be enjoyed. The basement can serve as the perfect wine cellar, craft room or recording studio. Think about how much and the type of storage and/or countertop space you need. We can add built-in cabinets, a pegboard wall and whatever lighting and soundproofing you may need.
Pewaukee Basement Finishing Considerations
Storage
What storage do you need in your basement? Some ideas might include: shelves for your bins of seasonal decorations, a built-in entertainment wall for your games and book collection, an area to tuck away seasonal sports equipment, or a workshop for tools. Whatever your specific needs may be, we can make it happen for you.
Design & Materials
Give some thought to the design and style of your basement, and the types of materials you want to use. Do you want the design to match your main level or do you want a different style or color scheme? This is where you will have an opportunity to be creative and let your personality shine through in this space.
Basement Flooring
Consider what type of flooring you want in your basement. Basements are known for being damp and moist so keep this in mind when choosing your materials. Carpet may be appealing, but often not the best option. Instead consider vinyl plank flooring, epoxy, floor paint, carpet tiles, concrete stain or sheet vinyl.
Basement Lighting
Basements are dark so keep that in mind when you choose your lighting. Get creative with lighting and consider options such as pendants, recessed lighting or under cabinet lighting. You could add a window, place picture lights over bookshelves, hang a chandelier over a table, or install sconces on the wall.
Basement Ceiling
What type of basement ceiling do you prefer? A dropped ceiling, an exposed area, painted pipes and beams, natural wood planks, or an acoustic tile ceiling are just a handful of the many choices that exist for you. It all depends on the look you want.
Basement Heating
Basements are cold so you need to decide how you want to bring more warmth to the space. Whether baseboard heat, radiant heat, floor insulation, an electric fireplace, or another option, you have numerous possibilities.
Get Started on Your Pewaukee Basement Remodel
Now that you know some of what's out there, are you ready to start planning your Pewaukee basement remodel? At Kowalske Kitchen & Bath, we are design-build contractors that have perfected a hassle-free formula. We manage every step of the renovation process. Our expert team can help you every step of the way. Whatever your perfect vision may be, we can help you bring it to life. Call our experts today!
Our Favorite Basement Projects
More Resources