Do you wish you had more room to host the next big game night? Or maybe a dedicated space for the kids' imagination and all their toys? It's time to make your vision a reality because you're living right on top of the answer – basement finishing! Over the years, Milwaukee basement remodeling has become more popular as homeowners look to transform the extra space to be more inviting. It's actually proven that finishing a basement increases the home's value, so why wait on the opportunity to take your home to the next level? As you begin to plan out what your new basement will look like, be sure to take a moment and consider these do's and don'ts of basement finishing.
Do Get the Space Inspected
Anytime you're considering a remodel within the home, it's wise to think one step ahead and have the space professionally inspected first. There are plenty of hidden or overlooked issues that will put a remodeling team on hold like toxins, pests, and unsafe structural integrity. By getting ahead of the game with a professional inspection, you'll protect yourselves and the remodelers from health risks or injuries. Home inspectors will be able to identify any issues that would impact basement finishing. Some of the common hazards found in many homes today include black mold, deteriorating foundations, pests and more. Let's take a look at some of the most common issues you might encounter.
Don't Mess with Basement Toxins
Mold in the Basement
One of the most common toxins that you might encounter in the basement is black mold. Black mold occurs in areas with high moisture and bad ventilation. This type of mold spreads quickly, so it's best to resolve any water leaks or excessive moisture issues as soon as they're discovered. If an inspector finds black mold in your basement, first discover the source of the moisture and then make plans for mold removal. Self-removal is possible, but you'll want to prepare the area with proper ventilation, a dehumidifier, and scrub the affected area with a bleach solution. Do approach removal with caution as ingestion of black mold spores can cause respiratory problems and other health issues.
Beware of Asbestos
Asbestos is another household hazard that is commonly found in the basement of older homes. If found in your home, it will need to be handled before proceeding with any renovations. In the basement, asbestos is most commonly found in the insulation surrounding the furnace, water heater, and pipes running from these appliances. When a material containing asbestos deteriorates, it releases carcinogenic fibers that can be inhaled and cause health issues like mesothelioma cancer. Unlike black mold, the only way asbestos should ever be removed is by a professional removal service; attempting self-removal is incredibly dangerous for any residents of the household.
Lead Paint in Old Homes
Similar to asbestos, lead paint is another issue that needs to be addressed before a remodeling team can begin. Lead paint is usually found in older homes and is still present in many homes because previous homeowners would typically paint over the toxic material. The lead paint itself is safe if not touched, but over time it can flake or create dust that could be inhaled or ingested. This can lead to lead poisoning, a potentially fatal result of too much lead in the bloodstream. Lead paint can be handled by an experienced individual with the right products, but it's wise to play it safe and have it removed by professionals.
Do Look For Basement Pests
Although an unfinished basement may be unappealing to humans, critters of the ecosystem may think otherwise. Every house is expected to have its handful of bugs around, but an infestation should be eradicated prior to a basement remodel. Basement pests can vary based on location, but in Wisconsin, ants, rodents, and termites are the most prevalent and can cause extensive damage.
Rats, mice, and squirrels seek the warmth your house provides. They'll dig into the walls and create a nest where they can quickly multiply. Termites will target the wood beams and joists directly. After weeks of eating the wood away, the beams will be nearly unrecognizable and bear significantly less weight. There are methods and products to help remove both of these pests, but the situation can easily go beyond what a homeowner is capable of which will warrant a call to a professional pest remover.
If you notice any signs of pests dwelling in your basement, investigate the issue either yourself or by using a pest control company.
Do Check the Structural Integrity
Unfortunately, sometimes the area is not built soundly enough or the critical beams and joists are poor quality. In a worst-case scenario, crucial parts of a house can break which could lead to repairs costing thousands of dollars. Not only that, poor structural integrity is a major safety concern for the residents and the remodeling team. Play it safe by having a home inspector or structural engineer review the structure before you start a basement remodel.
Don't Try to DIY Your Milwaukee Basement Remodel
With the rise of YouTube, more inexperienced DIYers are attempting to tackle potentially dangerous construction efforts on their own. Even though YouTube and other online guides can provide helpful information, one missing detail could be disastrous and end up costing more than what you were intending to spend on the project. When approaching any project in the basement, it is best to hire a contractor.
The basement will likely need new electrical, plumbing and sheetrock installed. All of these could go severely wrong if you don't know exactly what you are doing. Avoid DIY issues like electrical fires, leaking pipes, or unappealing drywall. Unless you're a professional, it's best to leave it to a company experienced with Milwaukee basement remodeling.
Do Have a Theme for Your Basement Finishing
If you've spent some time thinking about basement finishing, chances are you've got a more inspired vision than just walls and new flooring. It's truly an opportunity to get creative and pull some purpose away from another room in the house. Here are some common finished basement themes and some accessories to really bring it all together!
The Basement Rec Room or Man Cave
Want to host the next big game party in your basement rec room? Maybe show off some old posters hiding in the closet and your hand-picked drink selection? You'll want to have these create the perfect man cave:
Favorite sports team memorabilia
Surround sound speakers
Pool table
Refrigerator
Bar area (wet or dry)
Comfortable guest seating
As you plan out your ideal basement, make sure to let your contractor know about out of the ordinary things you may require, such as plumbing access for a wet bar, or soundproofing ceiling panels.
Basement Kids' Playroom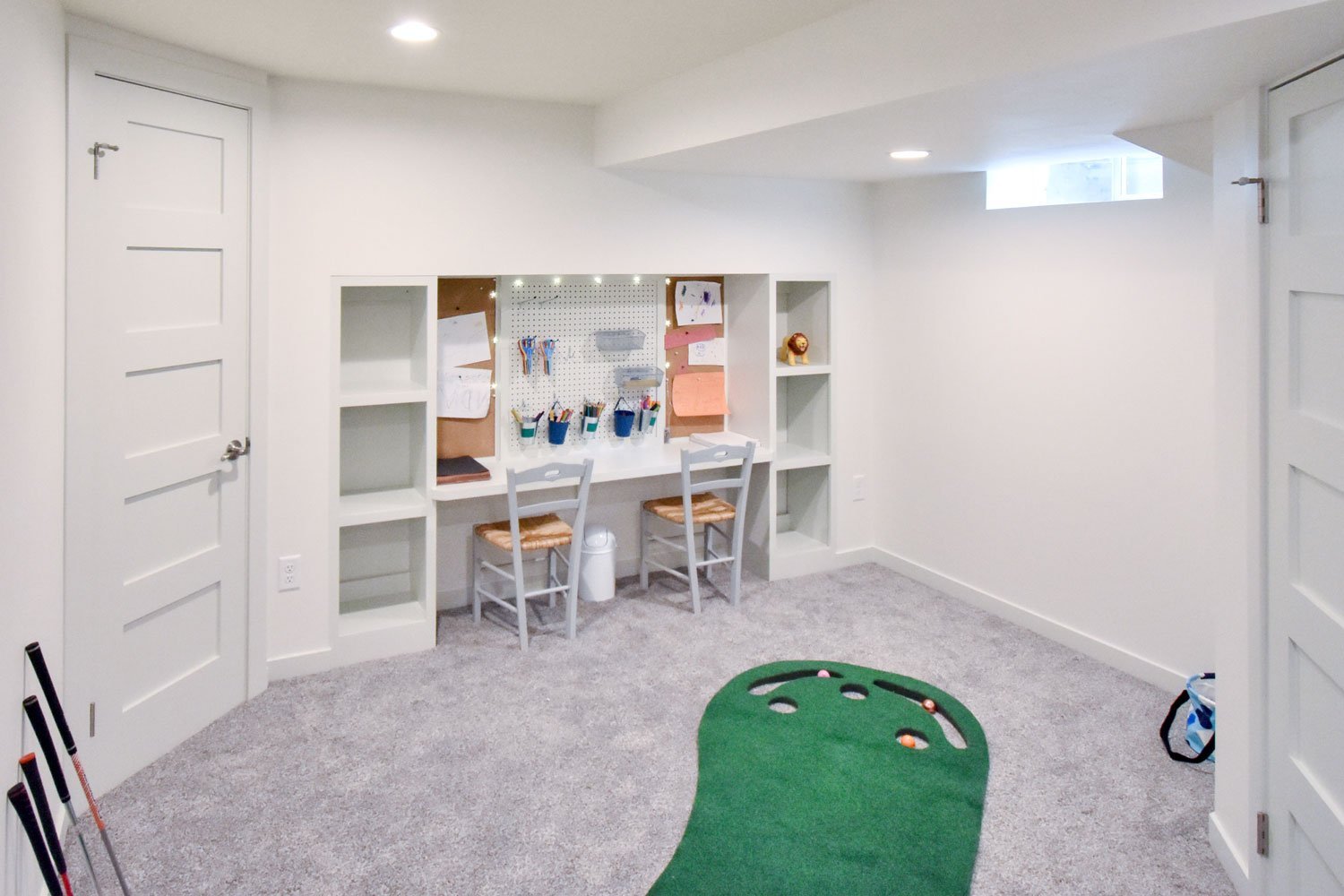 No more tripping over toys throughout the house and you can binge some Netflix without distraction. Children love a dedicated play area to let their imagination soar, so grab these accessories to help encourage playtime:
Toy chest
Gaming console
Board games
Crafting materials
Chalkboard
Make sure you make this place a safe space for your kids as well. Using toxic-free materials, soft spaces like floors or bean bag chairs.
Basement Workout Space
Not a fan of going to the gym? Save yourself the drives back and forth by setting up your own at-home gym. You might need:
Adjustable weight dumbbells
Bench press
Water cooler
Rowing machine
Foam floor mats
If you decide to put a workout space in, think about adding a bathroom to the basement as well. This way, you can shower and recover right after your workout, without taking up another bathroom in the house.
Don't Forget: It's a Basement
With all the excitement of planning what to do with your newly renovated space, there's a few factors to remember for an underground room.
In order to keep your finished basement in prime shape, control future moisture with a dehumidifier. These machines collect the water in the air over time and will need to be emptied periodically. On top of a dehumidifier, a sump pump is another way to prevent water buildup in the basement.
In most cases, it's best to avoid using carpet in the basement in the event of flooding. A wet carpet is a recipe for mold since it's incredibly difficult to dry up all the moisture. Ceramic flooring is a stylish and waterproof alternative, but vinyl flooring is another great water-resistant option.
Keeping your basement dry should be a major priority during and after your renovation.
Do Consider Adding Rooms in the Basement
There are plenty of productive purposes your finished basement can serve such as a dedicated laundry room, storage space, guest room, or a combination of these ideas. Ultimately, a finished basement can be sectioned out for different rooms as space allows.
Basement Laundry Room
If you don't have a dedicated laundry room on the above-ground floors, moving your washer and dryer to the basement can be relieving. Not only do washers and dryers take up a lot of space, but they're also noisy, which disrupts the peace and quiet that every homeowner appreciates.
Basement Storage Room
Creating a dedicated storage room is much more customizable and easier to organize than stacked totes. With finished walls, you can install shelving, keep your belongings off the floor and prevent insects from finding their way to your stuff.
Basement Bedroom
Another option is building a bedroom for guest accommodations or an older child like a teenager who usually has a difficult time sharing a room with younger siblings. If you don't already have a guest room, they'll appreciate the privacy while staying over and not needing to sleep on a couch.
Do Contact a Professional Remodeler
A finished basement is an investment into the future value of the house and an opportunity for you to create a special space. Since we've reviewed all the ways that a basement is a more sensitive area of the house, it's best to lean on the expertise of a professional remodeler.
Here at Kowalske Kitchen & Bath, our basement remodeling experts will work with you from the planning stages all the way to the finish line. For nearly 40 years, our dedication has been to excellence and superior quality to ensure you're beyond satisfied with your finished basement.
It's time to make your basement an enjoyable space and we'll help turn your ideas into reality. Remodeling any room in a house is a sure way to increase home value and Kowalske does it best. Call to get started!
Learn More