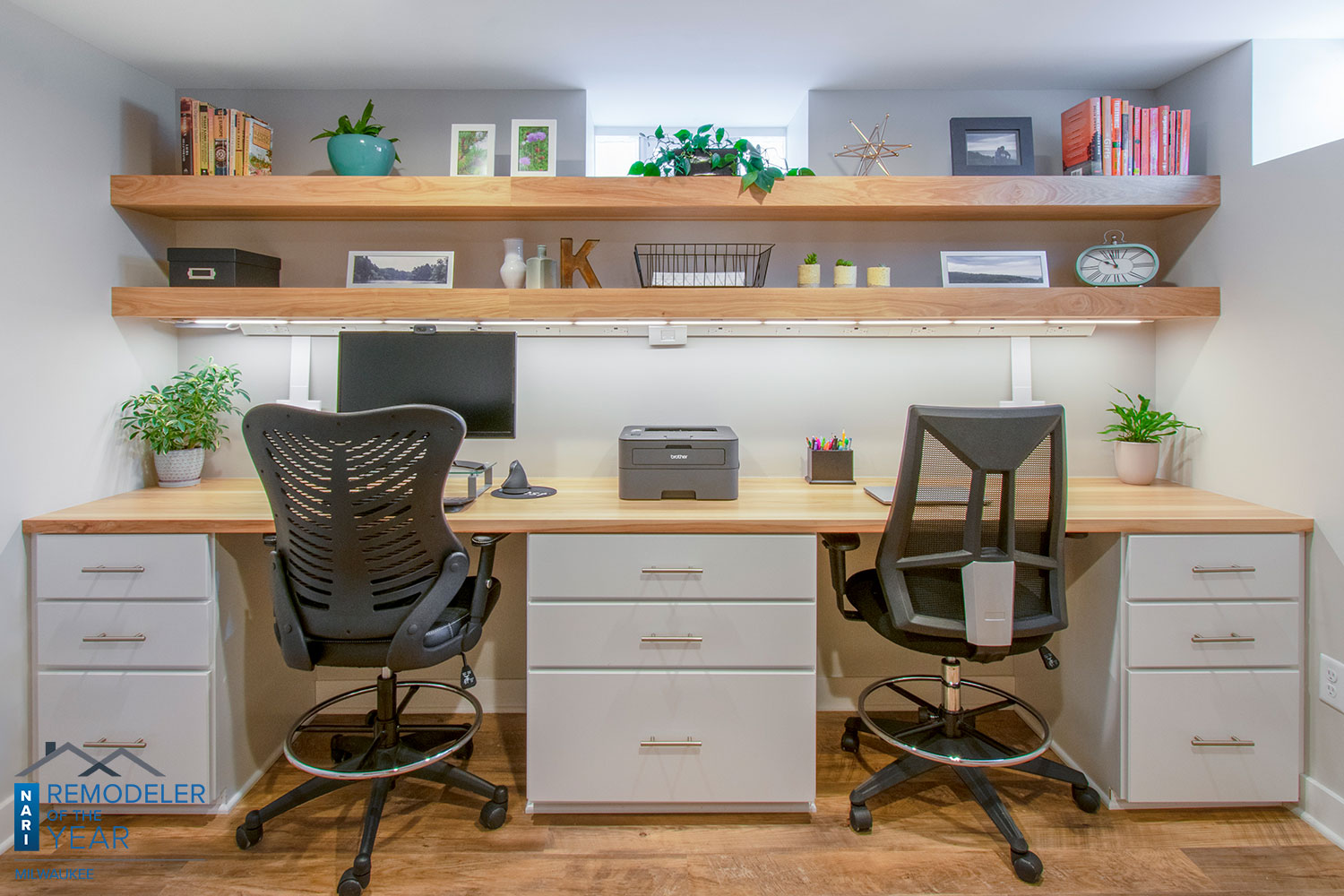 Wauwatosa Basement Remodel: Office, Laundry, Bath & Living Room
From Cold & Dark to Warm & Bright
This 1933 Wauwatosa basement was dark, dingy and lacked functionality. The basement was unfinished with concrete walls and floors. A small office was enclosed but the rest of the space was open and cluttered.
The homeowners wanted a warm, organized space for their family. A recent job change meant they needed a dedicated home office. They also wanted a place where their kids could hang out with friends.
Their basement remodel ideas included: a home office where the couple could both work, a full bathroom, a cozy living room and a dedicated storage room.
This basement renovation resulted in a warm and bright space that is used by the whole family.
Basement Highlights
Home Office: A new office gives the couple a dedicated space for work. There's plenty of desk space, storage cabinets, under-shelf lighting and storage for their home library.
Living Room: An old office area was expanded into a cozy living room. It's the perfect place for their kids to hang out when they host friends and family.
Laundry Room: The new laundry room is a total upgrade. It now includes fun laminate flooring, storage cabinets and counter space for folding laundry.
Full Bathroom: A new bathroom gives the family an additional shower in the home. Highlights of the bathroom include a navy vanity, quartz counters, brass finishes and a Dreamline shower door.
Staircase: We spruced up the staircase leading down to the lower level with patterned vinyl flooring and a matching trim color.
Storage: We gave them a separate storage space, with custom shelving for organizing their camping gear, sports equipment and holiday decorations.
Homeowner Review
"We had been talking about remodeling our basement for a long time, but decided to make it happen when my husband was offered a job working remotely. It felt like the right time for us to have a real home office where we could separate our work lives from our home lives.
We wanted the area to feel open, light-filled, and modern – not an easy task for a previously dark and cold basement! One of our favorite parts was when our designer took us on a 3D computer design tour of our basement. I remember thinking, 'Oh my gosh, this could be our basement!?!' It was so fun to see how our designer was able to take our wish list and ideas from my Pinterest board, and turn it into a practical design.
We were sold after seeing the design, and were pleasantly surprised to see that Kowalske was less costly than another estimate."
– Stephanie, Wauwatosa Homeowner
Similar Basement Projects
Learn More
Project Details
Project Year: 2019
Location: Wauwatosa, WI
Updates Included: Basement Remodel
Features: Office, Living Room, Full Bathroom, Laundry Room, Storage Area & Stairs
Estimated Cost: $125,000+
Award Winning Project
This basement remodel was awarded a GOLD 'Remodeler of the Year' award from the Milwaukee National Association of the Remodeling Industry (NARI) in 2020.