Do you love prepping for parties and gatherings at your home for family and friends to enjoy? Looking for some kitchen remodel ideas and inspiration? You've probably envisioned some ways you'd like to upgrade your space to make it more conducive for entertaining. Remodel your kitchen with hosting in mind. This can help make it easier to food prep, clean, organize – just without the headache and hassle!
If you need some tangible ways to upgrade your kitchen and entertaining space for a weeknight family dinner, a cocktail party, or anything in between, you've come to the right place. Keep reading along for some luxury kitchen remodel ideas that can change the game and fulfill your most ideal hosting desires. 
1. Focus on Open-Concept Design
If you follow design trends, you know how popular open concept homes have become. The same style can apply to your kitchen; however, you'll want to play up certain elements within the open design that still allows for comfortability. There is nothing worse than feeling out of place at dinner or a gathering. Create spaces for gathering with an island or high bar tables with seating can be break up the room. Looking at the different types of kitchen islands can help you determine what style might be best for your space and entertainment style.
2. Upgrade your Appliances
When it comes to food prep and entertainment, having top-of-the-line energy efficient appliances will be sure to impress your guests. If you're in the market to replace any luxury, high-end appliances you might be able to take advantage of your home warranty plan. Many people don't realize home warranty policies can protect your pricier items from natural wear and tear from entertaining. No need to worry about accidents happening, your kitchen is meant to be utilized and shown off! Some examples of higher-end warranty items include wall ovens, wine chillers, sub-zero refrigerators, espresso machines, trash compactors, and induction cooktops. If you're in need of an update to spruce up your kitchen, there is no better time than now. And you might be able to do it for less than you thought.
3. Splurge on Comfortable Seating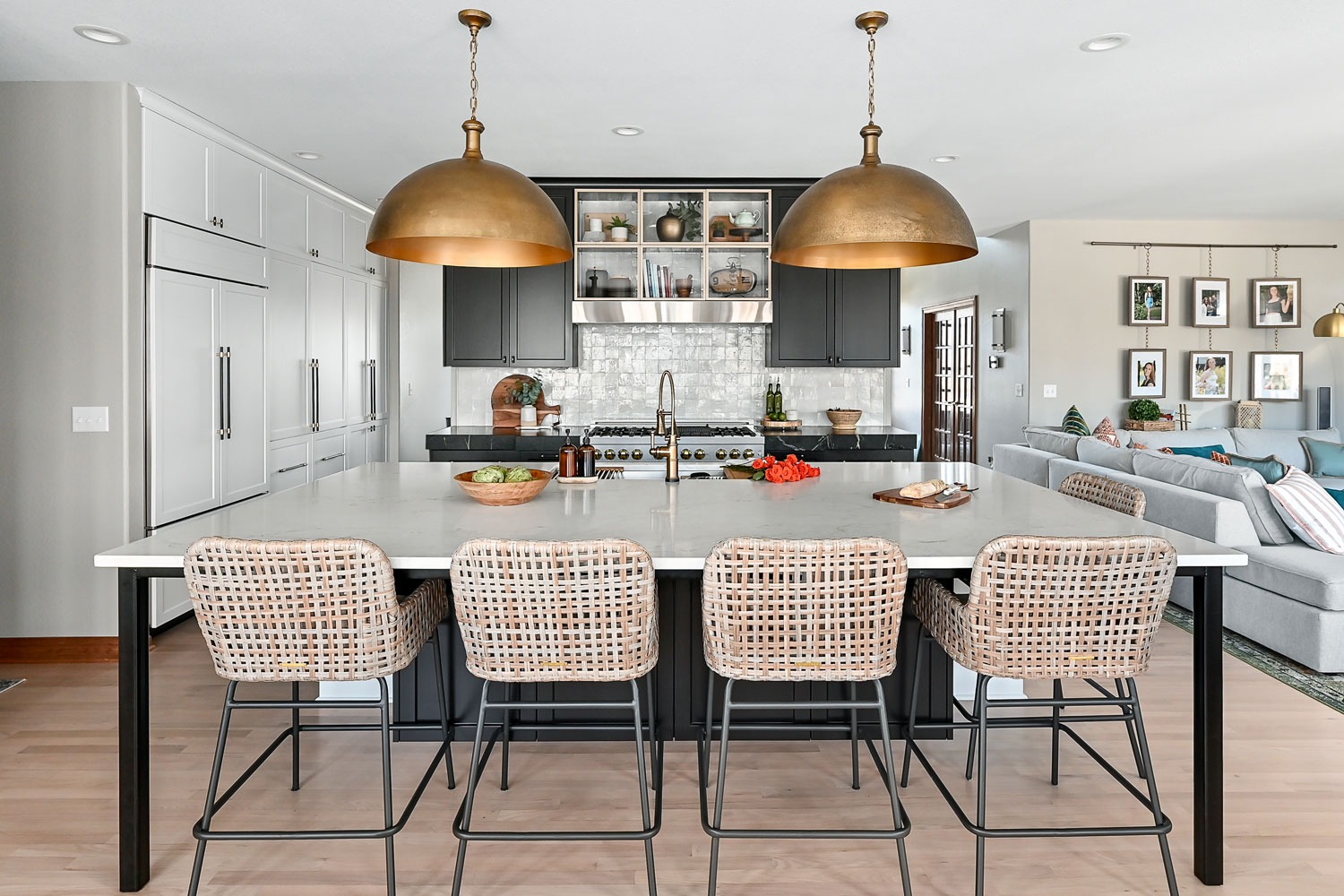 One of the most important elements of any home gathering is seating and comfortability. When updating your kitchen, keep in mind areas that should have easy access seating. Your guests can sit and relax if needed but can still feel part of the event. Especially if you have family members or kids who won't want to stand for long periods of time, stylish and practical seating is crucial. Consider putting in a higher kitchen counter with bar seating, a great option that allows guests to sit or stand without appearing secluded from conversations.
4. Update Your Countertops
If you're putting in an island or replacing cabinets, this is a great time to consider a stylish new countertop. There are many options, colors and materials you can choose from when updating to liven up your kitchen and make for a fabulous dining experience. There is even an option to use mixed materials. For example, a wood finish mixed with quartz. Based on the shape and size of your kitchen, you can consider some of the most popular countertop materials. Functionality, aesthetics, and lifestyle all play a role in this choice, so speaking with a Kowalske designer might be worthwhile.
5. Implement Functional Storage Features
Not only is it important for your kitchen to look nice, but you want it to feel orderly for guests. Maintaining an organized and tidy kitchen isn't as easy as it sounds, especially when you're regularly hosting family and friends. Implementing easily accessible storage features can make hosting a breeze and allow you to maintain the look and feel of cleanliness. To help you get inspired, check out some creative kitchen storage organization ideas that you might want to include in your remodel. From pull-out cabinets to spice drawers and utensil storage, there is a hack for everything. A very popular feature to consider is pull-out trash storage, which is beautifully hidden and allows for the separation of recyclables, trash, and any other waste you have.
7. Build a Beverage Station
A great way to avoid being the bartender at your more casual parties or gatherings is to set up an inviting and fun beverage station. You can even come up with a signature drink for the night and make it in bulk beforehand to allow your guests to simply pour and enjoy it! You can be as elaborate as you want when it comes to creating your own bar. Take advantage of pretty wall space by creating glass shelves attached by industrial piping, a backdrop mirror, or some wall art to spruce it up. If you happen to be a wine connoisseur, you may want to hang up your bottles as decoration. There are so many trendy home bar ideas you can recreate to match the style of your home and kitchen.
8. Separate Your Cooking & Entertainment Area
Whether you like to cook or have someone else cook for you, you'll want some space for preparation. It's a good idea to think about the space you'll want while guests are in your kitchen. Some ways to apply this idea when creating your remodel plans are to include an island between the stove area and the rest of the kitchen to almost work as a divider. On the other side of the island, you can place appetizers that show your guests where they can relax and enjoy themselves without being in anyone's way.
9. Select Mood Lighting & Fixtures
Lighting is important in every room of your home and can help inspire a certain mood. Brighter lights near the food prep area can be helpful, but you might want to include warmer, mood lighting near the dinner table or where guests will be lingering. Learning how to best light your kitchen can help create the aesthetic and feel you desire in this space. For example, under-cabinet lighting has become a very popular design feature as it does more than just look nice! It allows you to read recipes, spot ingredients, and provide better light for safe meal prepping.
You'll likely want to install different types of lights throughout your kitchen area, most of which fall under three categories: ambient, task, or accent lighting. All lighting serves a purpose in both function and aesthetic so doing some research and speaking with a designer at Kowalske Kitchen & Bath can help ensure you get the proper lighting and fixtures.
Get Started on Your Kitchen Remodel
Kitchen remodels require a lot of thought and planning compared to other areas of the home. Since the kitchen is such a popular part of the home and commonplace for hosting parties and gatherings, it makes sense that you want to get it just right. By considering the most important kitchen elements for entertaining, you can get started knowing you're investing in both function and design for your new, updated kitchen.