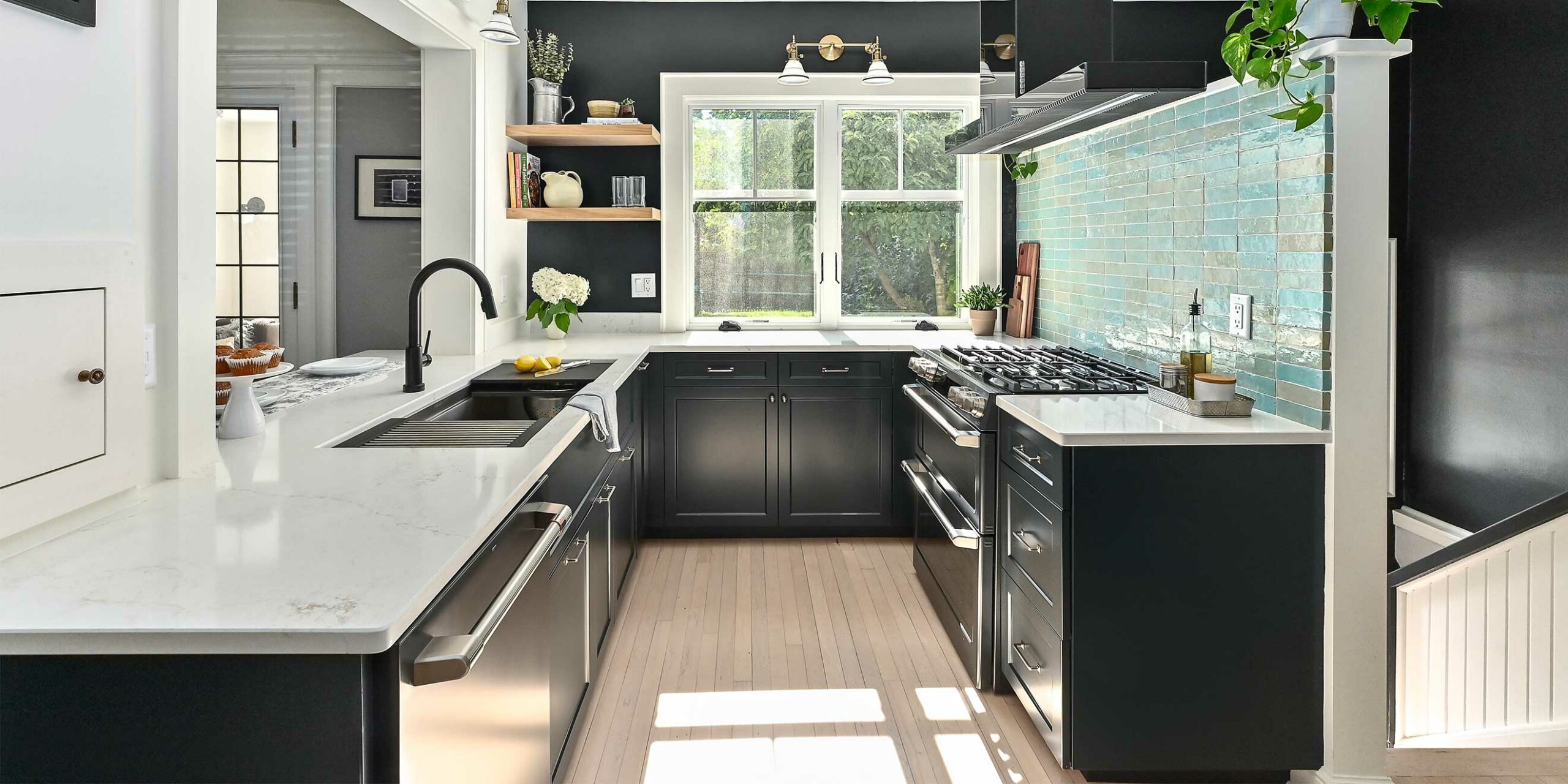 Walk-In Pantry & Pass-through Kitchen Window
This Shorewood, WI family wanted an open kitchen where they could entertain and spend time together cooking. The goal of this kitchen remodel was to transform the awkward room into a highly useful kitchen that is more airy and spacious and includes functional features like the workstation sink. The black and white color palette brings everything together with a clean and classic look.
In this 1930s bungalow, the old kitchen layout had several major issues. Most significantly, the space didn't allow for a "functional triangle" so that a second person could be in the space while someone was preparing a meal. Also, the room was cut off from the dining room.
Highlights of this New Kitchen:
Passthrough Window – An opening between the kitchen and dining room allows for connection between the rooms and seating at the counter. Now, they can have family time and conversations with people in the dining room.
Extra Storage & Convenience – Storage space includes a walk-in pantry, rollout cabinet next to the refrigerator and cabinets in front of the window. In addition, open shelving in the corner by the sink is perfect for storing glasses, dishes and cookbooks. Finally, the closet for the vacuum has an outlet for convenience.
Workstation Sink – With a small kitchen like this, the workstation sink is an ideal choice for multi-tasking such as food preparation, cleaning and more.
TV in the Kitchen – Many of our clients are now requesting a TV in the kitchen. For this kitchen, we designed a custom cabinet to fit a TV, with the remaining cabinet used for storing home office supplies.
Arched Doorway – An arched doorway into the pantry mimics the cove vaulted ceiling in the dining room ceiling.
Elegant Colors & Hardware – The walls are painted black so the hood disappears and does not overpower the space. Gray cabinets in the kitchen and pantry match the wall color in the dining room and the ornate brass hardware adds a finishing touch.
Tile Backsplash – The tile backsplash behind the range is a pop of color and focal point. The authentic, traditional Moroccan terracotta adds a soft color and texture. In addition, the handmade zellige tile features inherent imperfections in color (celadon, tan and light blue), size and textural variation.
Hallway to Backyard – We revamped the back hallway with shiplap and new trim for a fresh look. Now, the back hallway now feels more connected to the kitchen. A wall radiator adds warmth and our designers made other updates with the trim, door and window.
Learn More
Project Details
Project Year: 2022
Location: Shorewood, WI
Project: Kitchen
Features: Custom Cabinetry, Walk-In Pantry, Storage Organizers, Quartz Counters, Tile Backsplash, Galley Workstation Sink, Delta Faucet, Hardware, Hardwood Flooring, Windows, Door, Trim & Lighting
Estimated Cost: $125,000 – $150,000