It's not often that we work on commercial projects, but this is a project that we couldn't pass up! Kowalske Kitchen & Bath jumped in to help with the interior remodeling of Joy Ice Cream Social after getting a call from the owner (and long time friend). The 1930s abandoned gas station in Wauwatosa is now a bustling ice cream shop. For 10 years, "The Tosa Gas Station" sat empty on the corner of North Avenue and 84th Street in Wauwatosa. The new ice cream shop opened in July 2023 shortly after several other new businesses sprung up in Midtown Tosa including Lion's Tail Brewing and Fiddleheads Coffee.
"The exciting part of this project was working in my neighborhood and restoring a deserted, sad building that had so much history.

The goal was to make Liz and Tom Joy's vision a reality."
The building needed extensive renovations including plumbing, electrical and all the finishing touches. The building had not been maintained over the years, so the project began with repairs to ensure the structural integrity. The Kowalske Kitchen & Bath design-build team installed tile on the floors and walls, drywall, paint, cabinets, countertops and lighting.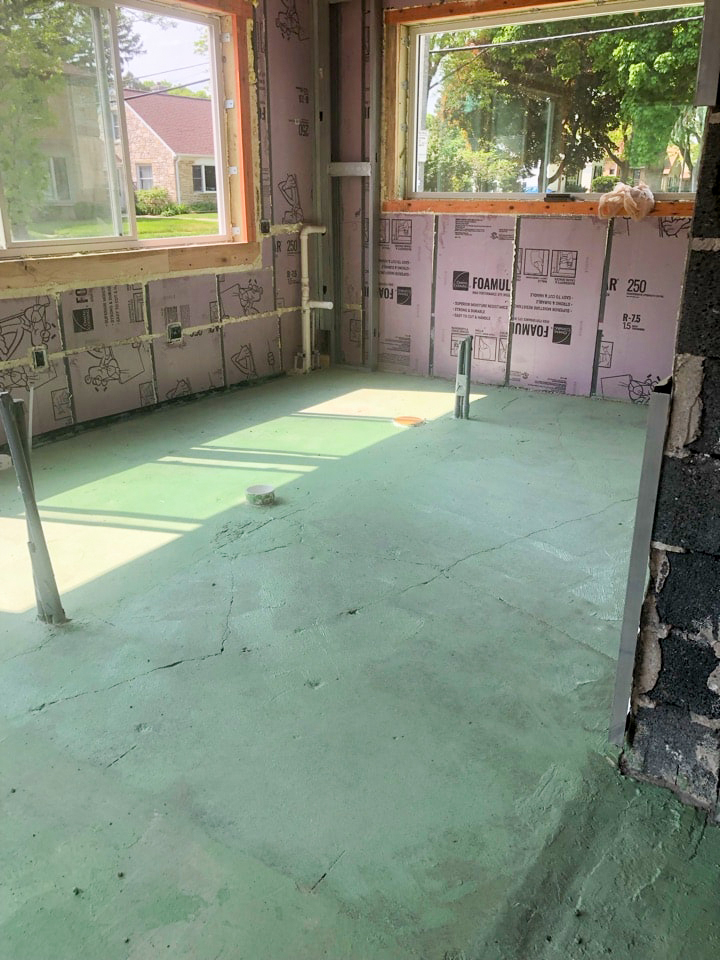 Joy Ice Cream Social Ordering Area
Upon entering the ice cream shop, you can't help but to notice the hexagon floor tile with ice cream cones in a pattern. The wall behind the ordering area is covered in pale pink subway tile, giving the space a vintage and nostalgic feel. The front of the ice cream freezer is covered in stained beaded molding. The white walls and quartz countertops make the space feel airy and open.
Bathroom Tilework
The hexagon tile continues from the main shop area into the bathroom. The lower bathroom walls are tiled in a bold teal subway tile. The upper wall is a custom printed ice-cream patterned wallpaper from Wisconsin company Chasing Paper. To complete the bathroom remodel, we installed a pale green Kohler sink from their heritage line.
Commercial Construction & Renovation Magazine
The project is covered in Commercial Construction & Renovation Magazine (Issue 9, 2023) sharing information about the floor preparation and tile installation process. Our Production Manager Byron Bye was interviewed for this article. Before tile could be installed, we needed to address the cracking and leveling issues. Materials were carefully selected to overcome the challenges of remodeling a 1930s gas station.
Read the magazine article:
About Joy Ice Cream Social
Joy Ice Cream Social is located in Wauwatosa, Wisconsin. They serve Wisconsin-made Chocolate Shoppe ice cream and other tasty treats. Be sure to stop by with friends or family for a scoop of ice cream in a homemade waffle cone!
About Kowalske Kitchen & Bath
We are a design build remodel company that will guide you through the entire remodeling experience – from the design phase through construction. If you have questions about remodeling or want start a project, schedule a call with a designer.