If you have ever thought about doing a tub to shower conversion for your Milwaukee bathroom, our experts at Kowalske can help. Such an upgrade is easy and effective, bringing you many unexpected benefits without the hassle of a full remodel. As you consider converting your tub to shower in your Milwaukee home, there are some things to keep in mind.
Benefits of converting your tub into a shower:
Showers Improve Bathroom Safety
Unfortunately, bathroom injuries are quite common, mostly among those age 55 and older. According to the Centers for Disease Control and Prevention, more than a quarter-million people suffer injuries in the bathroom every year. A lot of these occur because of the 15-20 inch height of the tub as compared to the approximately 4-inch shower threshold.

Keep your bathroom safe as you age or if you have elderly parents move in with you. It's much easier to step in and out of a shower, especially for elderly homeowners or someone with physical limitations or an injury. These individuals may struggle to pull themselves up and get over the lip of the tub. With a shower-only option, everyone in the household can have the bathing experience they want and need. To further improve safety, handrails can be added around the bathroom and shower.
A Shower Better Utilizes Space
Do you have a bathtub that's just sitting there unused and taking up precious space? Are you dreaming of a spacious walk-in shower? If so, you should seriously consider converting it into a shower. A tub to shower conversion can improve both accessibility and functionality, giving you a bathing area that works best for your family's lifestyle needs.
A Walk-In Shower Offers Convenience
Many of us like the idea of a relaxing bath, but for practical reasons, a shower is our preferred option. We can be in and out and go about our day. A shower is quick and convenient for people on the go. Keep life easy and simple for yourself and go the shower route. There is also the option of amenities that make the experience even more simple and comfortable, such as handheld showers and benches.
Showers Saves You Money Over Time
A fact many people overlook is that baths take a lot of water and the money adds up. Showering can save a homeowner hundreds of dollars a year on water and electricity when compared to the cost of bathing. It takes a lot of water to fill up a bathtub whereas a shower can be limited. Some people don't think about this aspect of a tub to shower conversion, but it's always great to have some extra money in your pocket to put toward a different improvement project for your Milwaukee home.
Showers are More Energy Efficient
Along with saving money, you will also be saving on energy. By using less water and having less volume to heat, a shower is clearly the more "green" and energy efficient option for your house. You can even install a low-flow showerhead to help on this front.
Showers are Easier to Clean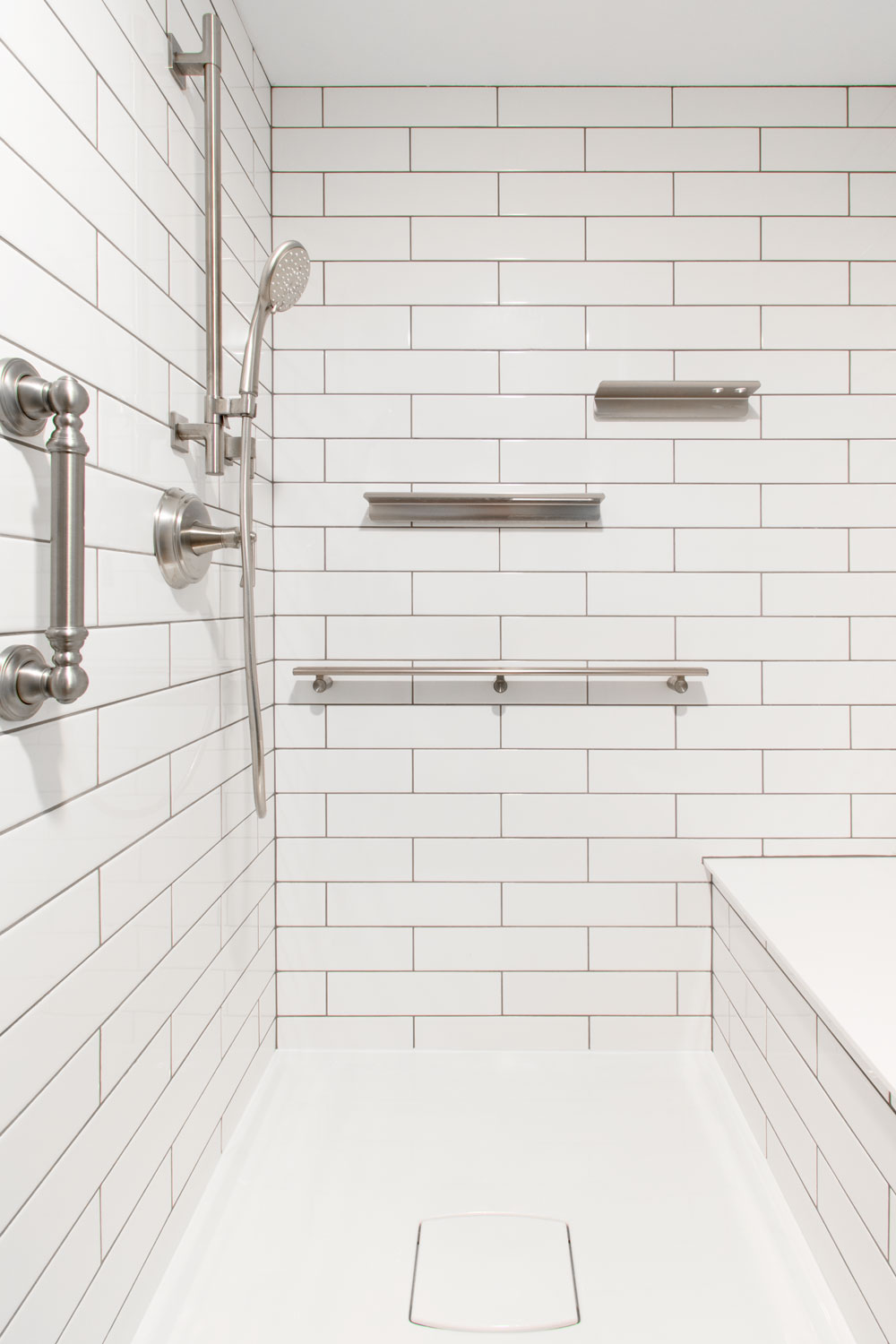 Let's face it that a shower is much easier to clean than a bathtub! No one wants to spend valuable minutes on their hands and knees scrubbing. Also, there are many non-grout options that make cleaning quick and efficient.
Our Favorite Shower Features
A Bigger Shower Is Better
Think about how big of a shower you want for your Milwaukee bathroom. You can create a larger shower to give the perception of more space. Also, bigger means more room for features like a shower bench, multiple shower heads, a storage niche for soaps and bottles, towel hooks/bars, or a towel warmer. A more roomy area also leaves the option for a window or skylight to let natural light into your bathroom space.
Luxury Shower Features: Showerheads, Jets, Steam & Heated Floors
A shower does not have to be basic. There are many ways to upgrade your shower and take it to the next level. Make a list of the amenities you want for a better bathing experience. These luxury features might include: a rain head showerhead, multiple showerheads, handheld showerhead, shower jets, steam features, heated floors, bench for sitting, etc.
Lighting & Windows
Do you have the type of lighting you want for your bathroom? Do you want spotlights, ceiling lights or an oversized fixture like a chandelier? The lighting choices out there are plentiful and can be the perfect match for your bathroom. For more natural options, consider a window or skylight and choose the location to maximize the sunlight.
High-Quality Materials
You'll need to decide which surface materials to use for your tub-to-shower conversion. Glass, marble, granite, porcelain, ceramic tile? The options and the benefits of each are many. There are a wide variety of materials that are as durable as they are aesthetically-pleasing, and this is your chance to have both!
Depending on the current setup of your bathtub, it's possible that your plumbing will be configured to better adapt to the conversion. You will want to ensure the plumbing is functional, efficient, and up-to-date for all your renovations.
Get Started on Your Tub to Shower Conversion
Now that you have a better understanding of what a tub to shower conversion will mean for your Milwaukee home, are you ready to take the next step? Our expert designers can help! Schedule an appointment.
Learn More